Kerry FC's search for their first win of the new season fell just short in Ferrycarrig Park as goals in both halves proved enough for Wexford FC to take all 3 points on a wet and windy St Patrick's night in Ferrycarrig Park.
Wexford started in the best possible fashion, with Mark Hanratty reacting best to a second ball giving no chance for Wayne Guthrie in the Kerry FC goal inside just 3 minutes.
But Kerry reacted well to going down early on with shots from both Leo Gaxha and Nathan Gleeson forcing Wexford shot-stopper Noel Heffernan into action. Wexford showed well in phases and Guthrie was forced into some big saves as well throughout the first half. The hosts were just inches away from making it 2-0 in the 40th minute. A Crawford free kick beat Guthrie but the crossbar was to come to Kerry FC's rescue. Kerry defender Andy Quaid limped off in the closing seconds of the first half and time will tell on his return to action.
But Kerry were to start the brighter in the opening stages of the second half. A handball in the box left Kerry players and management roaring for a penalty but all claims were surprisingly waved away by referee Paul Norton. Adeyamo had the ball in the Kerry net on the hour mark, but it was rightly ruled out for offside.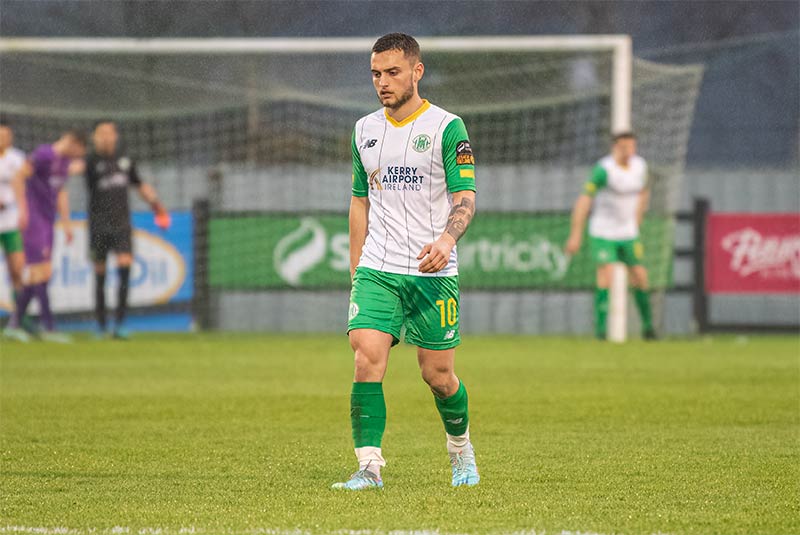 Photo: Leo Gaxha. Credit: Adam Kowalczyk
But Wexford played themselves back into the game and took a 2-goal lead, Brendan McCann latching onto a short corner in the 78th minute and it proved vital to Wexford's victory. But Kerry's heads never dropped and we got our reward in the 87th minute when Leo Gaxha met a beautiful Ryan Kelliher cross and his glancing header found the top corner. It was all Kerry in the closing minutes. Gaxha drove a low free just wide before he took another shot from the edge of the area but his effort was wide of the mark.
So a difficult night as we left Ferrycarrig Park empty-handed despite our very best efforts. Plenty of signs of encouragement for Billy Dennehy as the performance from his side was well above that of the game away to Galway United last week.
Kerry FC Starting XI – Wayne Guthrie, Kevin Williams, Andy Quaid, Shane Guthrie, Jonathan Hannafin, Samuel Aladesanusi, Matt Keane, Graham O Reilly, Sean Kennedy, Leo Gaxha, Nathan Gleeson