Wexford FC 3-2 Kerry FC
By David Moriarty • Photos by Ronan McCarthy
Kerry FC made the long trip to Ferrycarrig Park on Friday evening as the Kingdom took on Wexford FC for the third time this season.
The first meeting between the two sides was on Paddy's Day as Wexford narrowly came out on top with a 2-1 win. Back at home in Mount Hawk Park in May it was a demolition. Wexford comfortably beat Kerry by a six-goal deficit with Aaron Dobbs scoring four and Danny Furlong getting the other two. For Kerry Friday was about redemption as it was their highest loss at home in that stage of the season.
Kerry did go for a different approach in the lineup with most big names drooping to the bench, but a bonus was that Daniel Okwute, Samuel Aladesanusi, and Sean Kennedy were back into the squad giving Kerry a lot of firepower from the bench. With Wexford winning only one of their last three games, Kerry would be very hopeful of getting at least another point on the board.
Kerry FC manager Billy Dennehy praised his side for their performance against Cobh Ramblers last Friday as they were very unfortunate not to pick up all three points, but insisted that they learn these lessons as they go and the fans will see improvements on the pitch in every game, the travelling Kerry support to Wexford were hopeful of seeing these improvements for themselves.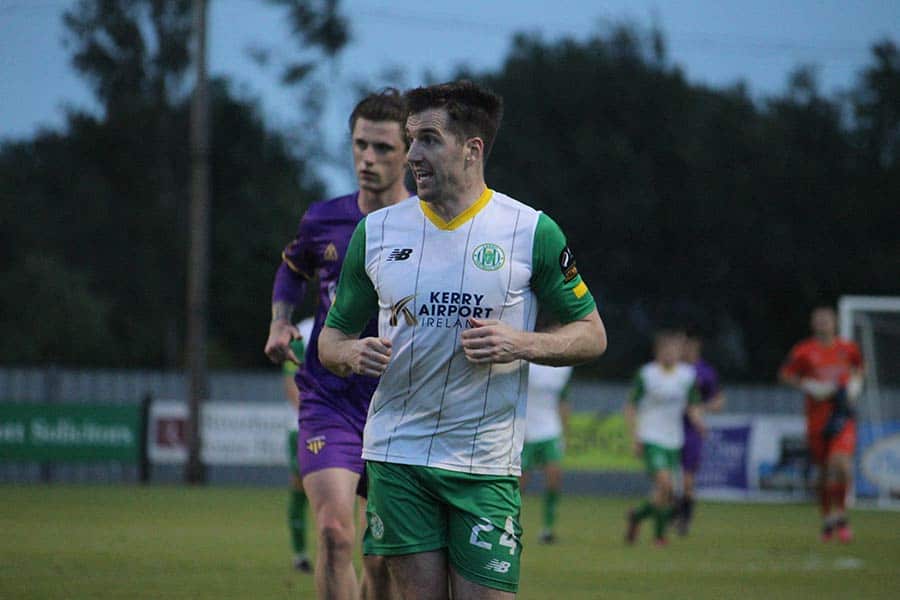 First Half:
Kerry started on the front foot and despite all the changes to the starting eleven, the Kingdom took the lead in the tenth minute. Cian Brosnan and Martin Coughlan did very well to win the ball back about 30 yards out. Coughlan laid it off to Kennedy Amechi, he took the ball in stride and held off his marker, striking the opportunity with serious power and precision, and it flew into the top left corner. A brilliant start for Kerry inside the first ten minutes where they controlled the possession and did not let Wexford cause them many problems.
The goal scorer Kennedy Amechi was causing all sorts of problems for the Wexford defence. The goal gave him huge confidence, he created another chance for himself out of nothing on the left wing after the twentieth minute by weaving in and out of the oncoming Wexford defence, his effort quite not as good as the first and it goes over the crossbar, to the relief of Owen Mason.
Even though they were not putting huge pressure on Kerry, Wexford kept playing their game. They kept the ball well and passed around quick and down the channels putting Kerry through their paces. With five minutes to go in the half they still had not created anything huge, and it was due to a tight and compact Kerry setup that they were not getting much success in front of goal. Sean Kennedy returning to the team after a long injury at right back was strong in defence and did not let the Wexford wingers get deep inside the Kerry sixteen-yard box.
The first forty-five ended with Kerry leading 1-0. A fantastic all-round team performance with a couple of players making their first start for the club such as Alex Ainscough and the goal scorer Kennedy Amechi.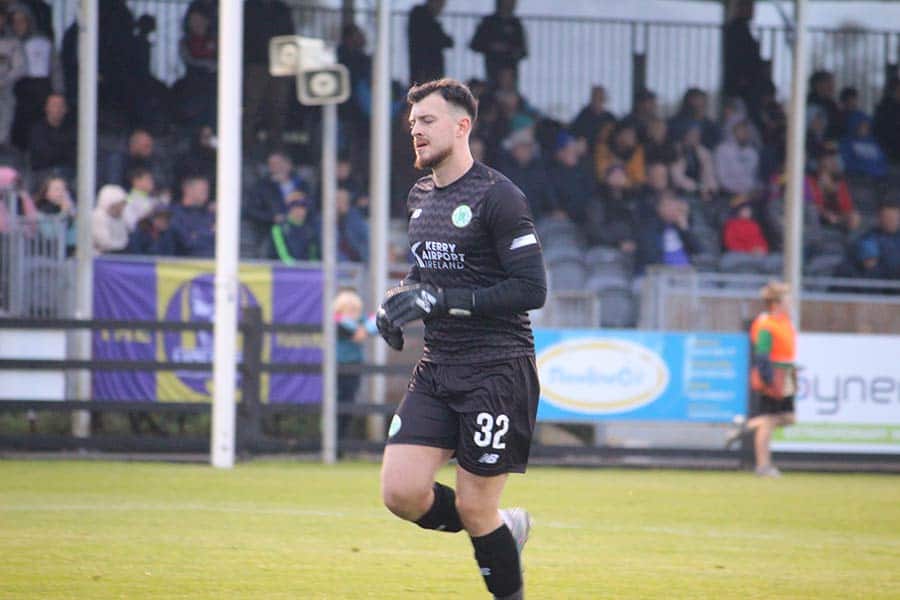 Second Half:
The second half started with mostly Wexford possession but again like the first half they had not made much of it. Kerry really played on the counterattack; the pace injected by half time substitute Sean McGrath added to Kennedy Amechi was sure to cause Wexford more problems for the remainder of the game. Amechi came close again this time on the right foot from far out, but he did not trouble Mason, it was a sign of Kerry knocking on the door to add a second early into the half.
They did not just knock on the door, they burst it down as Kerry got their second goal in the fifty-seventh minute. Sean McGrath, Alex Ainscough, and Rob Vasiu linked up very well down the right-hand side. A cross into space outside the box from Vasiu went all the way out to Sean O'Connell who struck the ball with real ping, but Owen Mason would parry it out to Kennedy Amechi who slotted home from six yards out.
The two-goal lead like last week would not last long as Wexford captain Ethan Boyle got on the end of a long throw to get a free header to head home the chance, cutting the deficit in half only a minute after conceding the second.
With twenty-five minutes to go Kerry introduced Ryan Kelliher and Leo Gaxha as Wexford's pressure really stepped up and were playing much better coming into the final third of the pitch.
Like last week, Kerry found it very tough to cope with the pressure and Wexford equalised. A cross into the box was headed the way of Aaron Dobbs from close range and he headed home to make it all square.
A minute after the equaliser, Wexford got a penalty. Danny Furlong went one-on-one with Lee Axworthy, the keeper did not put a foot wrong all game. Furlong touched the ball past Axworthy, and the Kerry keeper took him down giving referee Chris Sheehan no option but to point to the spot. Danny Furlong would subsequently step up and slotted it into the bottom right corner scoring his one hundred and eighth goal for Wexford to completely turn the game around with ten minutes to go.
Kerry had a chance to level with a minute of normal time to go. A free kick from twenty yards inside their half delivered in by Sean O'Connell reached Ryan Kelliher as he snuck around the back post to get his head on the chance but unfortunately put it wide.
Even with Kerry's best efforts towards the end, the game finished 3-2 to Wexford FC. A team sent out as a rotational eleven really took their individual chances with few minutes under their belt this season. A lot of positives to take from the game as Kerry are really finding a usual style of play that is making them devastating on the attack and cautious in defence. With that said Kerry now look to the second round of the Sports Direct FAI Cup next Friday as they face Drogheda United in what is to be the biggest game for the club to date.
---
Kerry FC Team: 32. Lee Axworthy, 24. Jonathan Hannafin, 15. Kevin Williams (C), 23. Ronan Teahan, 3. Sean O'Connell, 22. Cian Barret, 11. Sean Kennedy, 6. Alex Ainscough, 19. Martin Coughlan, 29. Kennedy Amechi (Goal '8, '57), 28. Cian Brosnan.
Subs: Arthur Nganou, Matt Keane, Rob Vasiu, Sam Aledasanusi, Ethan Kos, Sean McGrath, Ryan Kelliher, Leo Gaxha, Daniel Okwute.
Wexford FC Team: 1. Owen Mason, 3. Benjamin Lynch, 6. Ethan Boyle (C) (Goal '61), 8. Brandon Mccan, 10. Aaron Dobbs (Goal '78), 16. Corban Piper, 17. Kian Corbally, 23. Cian O'Malley, 26. Luke Browne, 28. Thomas Oluwa.
Subs: Charlie Heffernan, Darragh Levingston, Karl Chambers, Luka Lovic, James Crawford, Danny Furlong (Goal '80), Reece Webb, Max Kelly, Aaron Doran.
---