On Friday evening Kerry made their second trip of the season to the Carlisle Grounds as they kicked off the second half of the season with an away trip to Bray Wanderers. Bray held a 2-0 advantage in their meetings with the Kingdom as they came into the game on Friday. The most recent of which was a 2-0 win for the seagulls in Mounthawk Park on match day 15 through goals from Harry Groome and Ben Feeney. Kerry will want to shorten the gap in that series of games with Bray and most of the teams in the division as they will have a point to prove in the remaining half of the season.
Speaking to the media ahead of Friday night's game, Kerry FC manager, Billy Dennehy, noted that as Bray are in the hunt for play off positions, they will look at the match against Kerry as a game to keep themselves still in that race and use it as a confidence booster. Dennehy tried to point out that his players will have enough experience under their belts from the first half of the season to deal with games better than on previous occasions.
Kerry collected just six points from their first nineteen games in the first division, but they hoped to put that right and start off in an effective way, hopefully at the expense of Bray.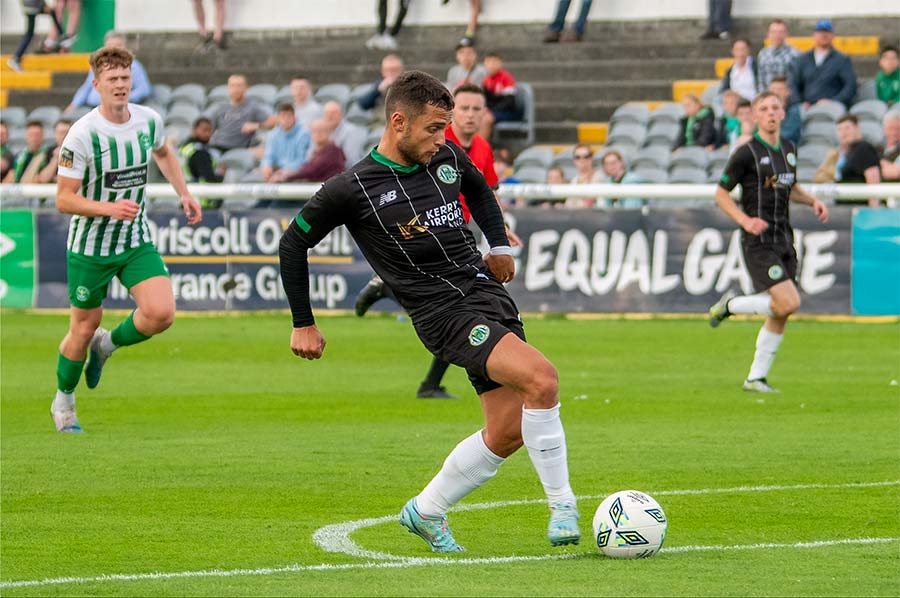 First Half:
Just after two minutes it was the same old story for Kerry. Being capitalised on silly errors. Kevin Williams, who has been one of Kerry's most consistent players this season, had a wayward pass intercepted. With space in front of Darren Craven he saw no other option but to let fly from twenty-five yards out and his effort bolts straight into the back of the net giving Bray the lead. Ten minutes had passed in the game and there was little to no sign of life for Kerry. Bray totally controlled the play in all areas of the field. If Kerry were not careful the game could have easily ended in the first twenty minutes.
To the surprise of everyone in the Carlisle grounds, just fourteen minutes after Bray took the lead, Kerry got back level with a goal totally against the run of play. Callan Scully's kick out was won in the air by Ryan Kelliher, he headed down to the feet of Sean McGrath who found Leo Gaxha in space with all the time in the world to pass the ball home easily into the bottom left corner. The equalizer for the Kingdom came out of nowhere and was the first real threat they put onto Bray goalkeeper Stephen McGuinness.
Kerry started to play the ball around a lot better and got the week off out of their system quickly after scoring. It did not mean Bray would hold up on the pressure they were inflicting on Kerry. Ben Feeney came close to regaining the lead after a corner swung in on the left side was aimed perfectly to the striker. He headed downwards and his effort hit the post, giving Kerry a sigh of relief.
Nine minutes before the half ended, Kerry had a bit of good fortune on their side. Ben Feeney beat the offside trap and Chris Lyons was all alone inside him waiting to tap it home. Feeney played it across the six-yard box for Lyons to tap in, but he was ahead of the ball and offside was awarded. This was sloppy on the side of the Bray attacker.
Kerry's good fortune would not last long and Bray regained their lead on the stroke of half time. Conor Crowley found plenty of space in midfield. He laid it out to the right wing to Ben Feeney who had a brilliant left footed curling effort find the left side of the net completely disheartening Kerry's late first half efforts and giving them a tough uphill battle in the second half.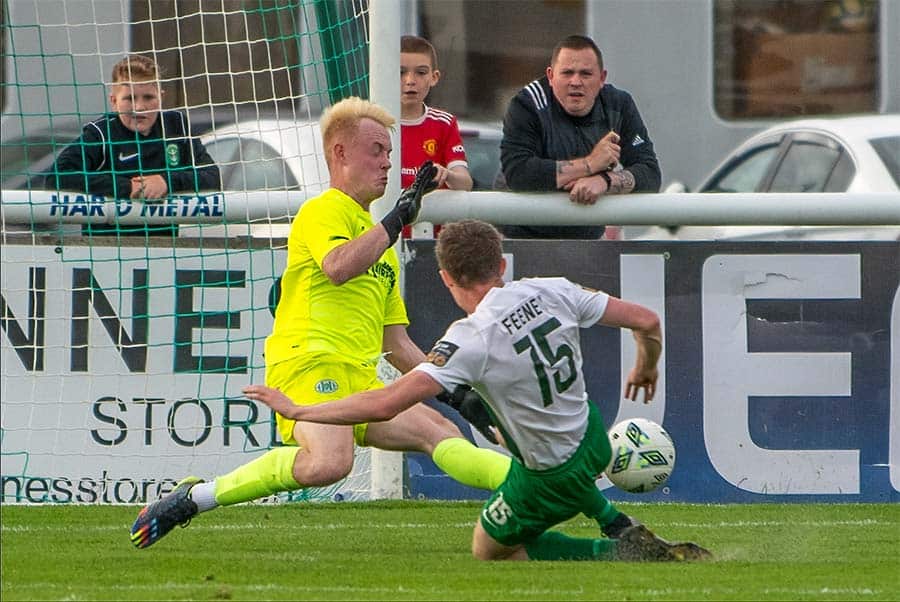 Second Half:
Bray restarted the second half very comfortably and regained the pressure they had finished the
first half with on the travelling side. They had their consistency rewarded controversially, just ten
minutes after the game restarted. It looked as if Leo Gaxha had been fouled by Luka Lovic, then his pass into Chris Lyons seemed to be delayed and looked offside. However, Lyons shot low and finished well. The goal stood and the Kerry players were incensed by the decision. Two goals down, Kerry needed to play more freely and take more risks if they were to get back into this one.
Kerry tried their best to get a few passes and pieces of possession together but Bray were simply not letting up. Most of the time Kerry had chances, they came from set pieces that were being dealt with very easily.
As the half went on it seemed very scrappy, both sides not holding onto the ball for long and the brand of football being played was a tough watch. Bray did not mind as long as Kerry were kept out, but Kerry looked nervous going forward and was probably the reason for unnecessary mistakes.
You knew if either team were going to get through it would be through some unforeseen mistake. This was nearly the case when Bray goalkeeper Stephen McGuinness kicked the ball off the back of his own player. McGuinness was well off his line and Kennedy Amechi had an effort on goal, but it was blocked before it could even reach the goal.
With the minutes on the clock going down, Bray tried to see off the Kingdom easily. They would have a bit of a scare with seven minutes to go as Kerry pulled one back through substitute Cian Brosnan. A long free kick delivered in from Cian Barrett, went out to the left byline. The ball looked to have gone out of play and Bray totally switched off. The loose ball was played back in across the box and Brosnan was there to finish superbly from close range to make it 3-2. Despite the late scare, Kerry would give the home side, Bray went out deserving 3-2 victors. Kerry showed great character and determination to keep going until the final whistle. That will be something they will want to consider before they face league leaders Galway United next Friday in Eamon Deacy Park.
Kerry FC Team: 16. Callan Scully, 2. Rob Vasiu, 15. Kevin Williams (C), 18. Samuel Aladesanusi, 22. Cian Barrett, 13. Togor Silong, 8. Matt Keane (C), 17. Nathan Gleeson, 7. Sean McGrath, 10. Leo Gaxha (Goal '16), 9. Ryan Kelliher
Subs: Richie Healy, Andy Quaid, Kennedy Amechi, Alex Ainscough, Sean O'Connell, Shane Guthrie, Graham O'Reilly, Cian Brosnan (Goal '87).
Bray Wanderers Team: 25. Stephen McGuinness, 4. Jack Hudson, 5. David Webster (C), 6. Luka Lovic, 7. Conor Crowley, 8. Harry Groome, 9. Chris Lyons (Goal '55), 14. Dane Massey, 15. Ben Feeney (Goal '45), 17. Darren Craven (Goal '2), 18. Max Murphy.
Subs: Alex Moody, Len O'sullivan, Ger Shortt, Cole Omorehiomwan, Callum Thompson, Jake Walker, Conor Knight, Guillermo Almirall, Joe Power.
---