Off the back of a brilliant fundraiser on Wednesday evening in aid of Comfort for Chemo and remembering the great John Doyle "Doyler," Kerry FC were back in League of Ireland action Friday night against Finn Harps.
Kerry FC 1-2 Finn Harps
By David Moriarty. Photos by Adam Kowalczyk.
The last two meetings between these two teams were close and nothing separated them as they both ended in draws. Kerry FC would be hoping to get bragging rights over at least one team this season and Finn Harps could just be the ones they attain that against.
Last time out between the two sides they played in Donegal, and nothing separated them as it ended 0-0. Both sides progressed last weekend to the last sixteen of the FAI Cup after wins against Ringmahon Rangers (Kerry FC) and Kilbarrack United (Finn Harps). So, wins for both teams put both camps in high spirits before Friday's match.
Kerry also added another signing to the squad as goalkeeper Arthur Nganou joined the club after a successful trial game during Wednesday's charity event.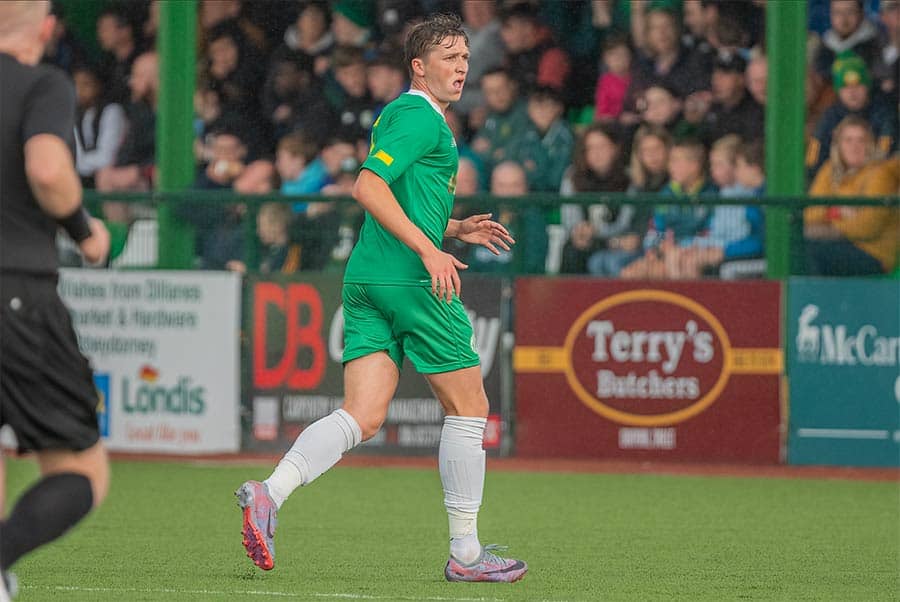 First Half
In the opening exchanges, the game was quite cagey and little separated the sides. Both teams battled it out in midfield as they found it hard to get many attacks going. Any time they did transition from defence to attack the passes were too heavy and the ball just broke itself away from the forward running players.
Twenty minutes went past, and it was still close, both sides managed to create a couple of chances, but nothing clear-cut enough to say they were on top. Both sides played a very tight system which stopped creative passes going into the pockets of space. Wingers such as Leo Gaxha and Sean McGrath found it extremely hard to create anything out wide because of the defensive system put in place. Likewise with Finn Harps due to the great defensive shape from the Kerry FC back line.
The best chance of the half at that stage went to Finn Harps who had a free kick on the edge of the box from Harps captain Tony McNamee. He struck low and with precision aiming into the bottom right-hand corner but was saved well for a corner by Lee Axworthy.
Harps started to control the play and stopped Kerry from creating many chances. Harps were earning themselves a bucket load of set pieces with very little working for them.
Overall, a very underwhelming first half from both sides. From the two previous meetings between the teams, it was easy to see why they found it hard to break each other down.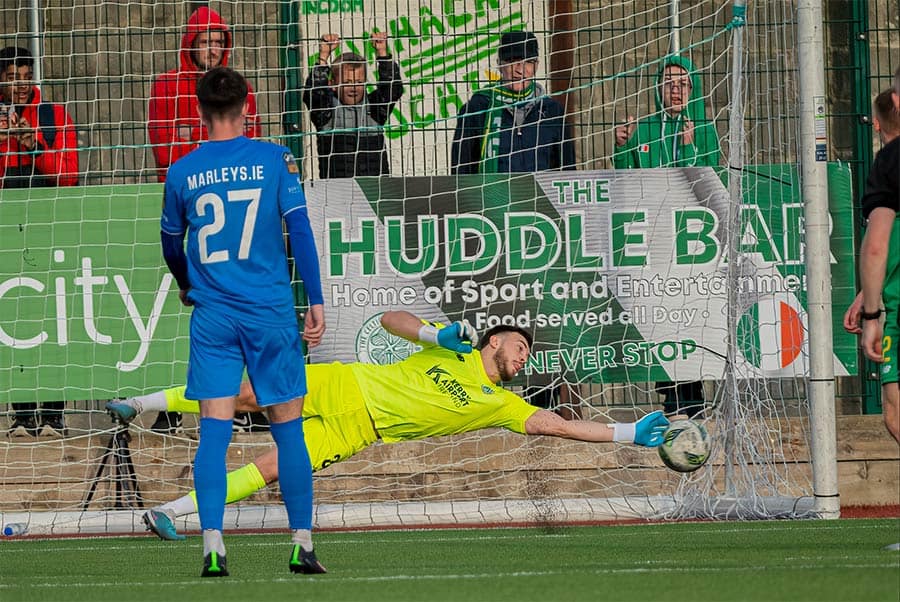 Second Half
The second half started at a much faster pace and Kerry FC created their first huge chance of the game. Striker Ryan Kelliher received the ball out by the left byline. He held the ball up well and found a pass inside the six-yard box to Sean McGrath who took the quick snapshot. Unfortunately, it was aimed straight at League debutant keeper Rory Kelly, and he would keep the kingdom at bay on this occasion.
Even with that quick start to the half from Kerry, Ryan Flood would put the visitors in front inside fifty-two minutes. A shot just inside the box broke to the Harps number seven and he thumped it through the crowded Kerry defence and past Axworthy in the Kingdom goal. A goal that summed up the game as it took a shot from distance to separate the two sides who defensively set up fantastically.
Harps came close again just nine minutes later. A free kick from the left side of the pitch delivered by Ryan Flood reached Semi Wara but his header attempt sailed over the crossbar. Kerry started to feel the pressure and felt that substitutes in the line of Ronan Teahan, Cian Brosnan, and Matt Keane would help tired legs out on the pitch.
Ethan Kos prevented the lead doubling for Harps as he brilliantly made a last stitched block from a shot by Jamie Watson that was goal bound. Kerry needed to step things up with twenty minutes to go if they wanted to achieve anything from the game.
Ten minutes to go and possession turned all the way in the favour of Kerry, but much like the first half, they were lacking the final pass to put pressure on Finn Harps. Harps decided to resort to late challenges to slow Kerry going forward and worked with very little being done to stop them.
Despite their best efforts, Kerry would get what they deserved in the eighty-sixth minute and draw level through on-form centre half Sam Aladesanusi. A cross from a corner swung in by Cian Brosnan flew over the head of Kelly with Sam there to finish the chance off. With four minutes to go and stoppages, it was game on.
With all the potential to be a late winner or to earn a point at least, it would be heartbreak again for Kerry FC. A free kick inside their own half from Ryan Flood was directed to Daithi McCallion, the centre half would head the ball towards substitute Billy Banda who subsequently headed home to win it at the death for Harps. Not at all what Kerry deserved from how they played in the second half especially to draw level but like on so many occasions this season, it just was not meant to be for Billy Dennehy's men.
As the sides clashed after the full time whistle, Kerry goalkeeper Lee Axworthy received two yellow cards and was sent off.

Kerry have to put that devastating loss behind them and turn their focus to next Friday as they travel a short distance to take on Waterford FC before a bank holiday Monday clash v Cobh Ramblers back at home.
---
Kerry FC Team: 32. Lee Axworthy, 3. Sean O'Connell, 18. Sam Aladesanusi (GOAL 86'), 5. Ethan Kos, 2. Rob Vasiu, 15. Kevin Williams, 22. Cian Barret, 19. Martin Coughlan, 10. Leo Gaxha (C), 7. Sean McGrath, 9. Ryan Kelliher.
Subs: Ethan Nganou, Alex Ainscough, Matt Keane, Nathan Gleeson, Ronan Teahan, Togor Silong, Cian Brosnan, Jonathan Hannafin, Graham O'Reilly.
Finn Harps Team: 31. Rory Kelly, 4. Daithí Mccallion, 7. Ryan Flood (GOAL '52), 12. Stephen Doherty, 20. Sean O'Donnell, 26. Tony Mcnamee (C), 27. Patrick Ferry, 30. Jamie Watson, 42. Max Hutchinson, 55. Matty Mackinson, 77. Scott Wara.
Subs: Oisin Cooney, Keith Cowan, Noe Baba, Caoimhin Porter, Daniel Stokoe, Shane Mcmonagle, Billy Banda (GOAL '90+4), Aaron McLauglin.