Finn Harps 2–1 Kerry FC
Report by David Moriarty • Photographs by Joe Boland, North West Newspix
Kerry made the 800-kilometre round trip to Finn Park, Donegal to take on Finn Harps for the final time this season. Each time the two sides have met this over the course of the season they have been very tight games with two draws and a 2-1 win for Harps last time out. Finn Harps snuck the three points in the ninety-fourth minute through a Billy Banda winner that evening in Mounthawk, so Kerry came to Ballybofey looking for revenge.
They went attacking with Sean McGrath, Leo Gaxha, Ryan Kelliher, and Daniel Okwute all starting for the Kingdom. Okwute made his return to Harps for the first time since joining Kerry during the transfer window and Harps were hoping he would not come back to his former ground to bite them.
The weather was perfect for what was sure to be a challenging game for two sides in the League of Ireland First Division who wanted to finish off the season on a high with just four games left. During the week, Finn Harps manager Dave Rodgers left his role as manager due to family and personal reasons. Darren Murphy has stepped in as interim manager for the remainder of the season. The introduction of a new manager usually has an effect on a team and Kerry was hoping it would be a bad one.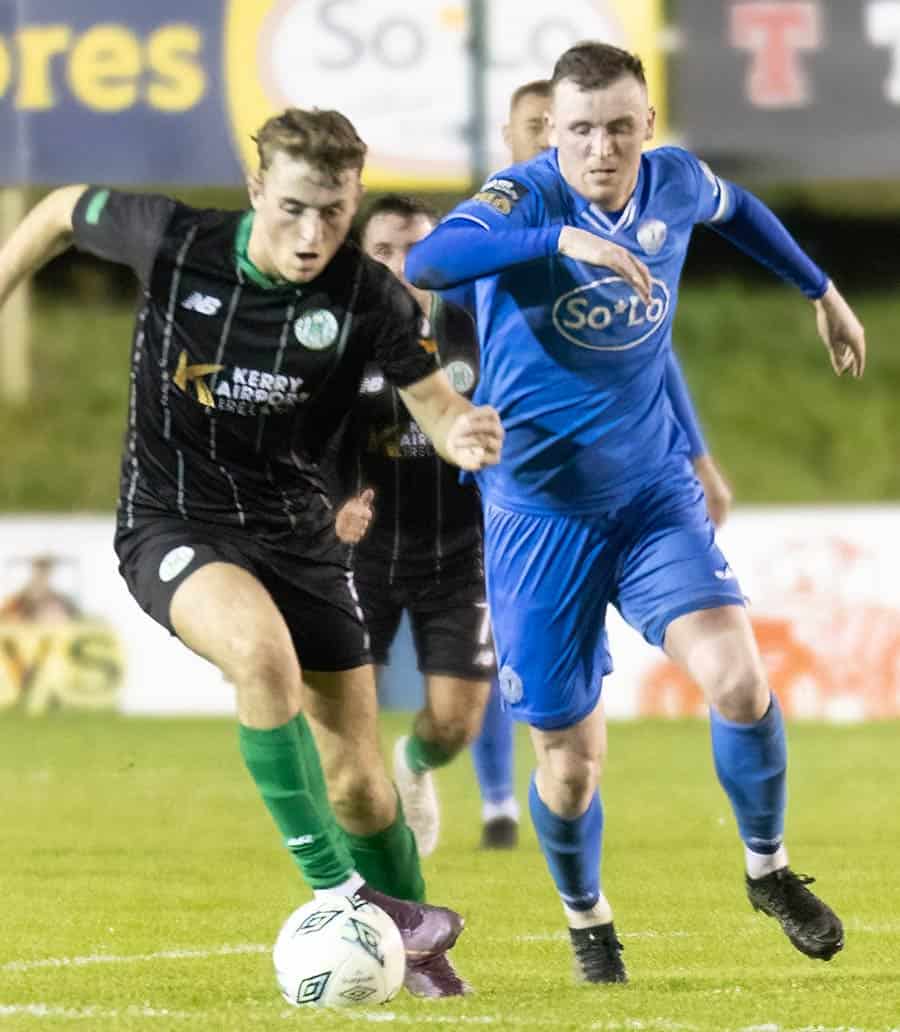 First Half
In the first couple of minutes Ryan Kelliher had half a chance to put the visitors ahead. Sean McGrath did well out wide and put an early cross into Kerry's number nine, but it was just a bit too far ahead of Kelliher who could not make anything of the situation.
After the early opportunity, the game took a while to get going. Shots from Daniel Okwute and Billy Banda went over the crossbar for either side and the game was in dire need of a bit of quality.
Lee Axworthy was called into action on the half hour mark when a long throw from the left side of the box went right across the six-yard box. Luckily, Axworthy was there to sniff out the danger and collect it. He was needed again just a few minutes later when a corner from the left side was swung in and in need of a header to put it in the back of the net. Thankfully, again Axworthy was there to push the ball away from any oncoming danger.
Harps' last chance of the half came to Stephen Doherty who had space outside the box, but his effort dragged wide. Ryan Kelliher nearly gave Kerry the lead on the stroke of half-time when he pounced on a poor touch by the Harps defence. He drove into the box and got into a decent area but his attempt at a chip was unlucky as it went just over Antonio Tuta's crossbar.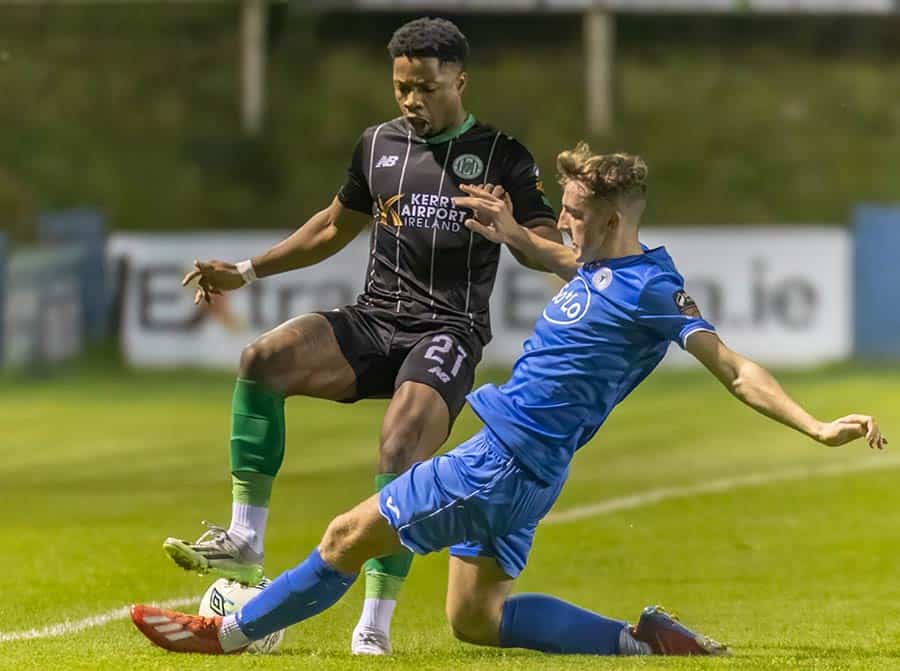 Second Half
After a first half that lacked a bit of excitement, Kerry FC took the lead through Ryan Kelliher. Daniel Okwute picked up the ball on the right wing and drove into the box beating his marker. Okwute squared it across the box and Kelliher was there to score his eleventh goal of the season in all competitions.
Despite the quick start to the second half, Finn Harps equalised just three minutes later through a Billy Banda goal. A free kick on the right-hand side delivered by Tony McNamee met Banda and his glancing header was enough to get the home side level. A poor game was brought to life within the space of four minutes.
From then on Kerry controlled most of the half. A shot from Daniel Okwute outside the area was deflected out for a corner which led to nothing, and a Kevin Williams header hit the crossbar. Although Kerry dominated since the equaliser Finn Harps would go 2-1 up totally against the run of play. A corner on the left side swung into the area from Ryan Flood was placed directly on the head of Noe Baba and the substitute put Harps ahead with a bullet header.
The score line flattered Harps as Kerry had the majority of the possession. Sean O'Connell had a big shout for a penalty with just half an hour to go but Gavin Colfer waved play on. He had no choice but to give Kerry a penalty twelve minutes later when the ball struck the hand of a Harps defender. Unfortunately, Leo Gaxha's twelve-yard effort was saved by Antonio Tuta. It just seemed like it would be one of them games for the Kingdom.
Kerry finished out the game with another two massive chances. Daniel Okwute first had his shot hit the left post from a tight angle and again in the ninetieth minute Okwute again had a chance that was saved by Tuta. Even with their best efforts to get a leveller, Finn Harps left with the three points.
An unlucky night for Kerry who were by far the better team throughout the course of the game. The Kingdom are back home on Friday as they play in their second last home game of the season as they face Wexford FC in Mounthawk Park.
---
Kerry FC Team: 32. Lee Axworthy, 3. Sean O'Connell, 5. Ethan Kos, 18. Samuel Aladesanusi, 15. Kevin Williams, 21. Daniel Okwute, 23. Ronan Teahan, 19. Martin Coughlan, 10. Leo Gaxha (C), 7. Sean McGrath, 9. Ryan Kelliher (Goal '46).
Subs: Arthur Nganou, Rob Vasiu, Alex Ainscough, Cian Barrett, Togor Soling, Cian Brosnan, Kennedy Amechi. Nathan Gleeson.
Finn Harps Team: 40. Antonio Tuta, 7. Ryan Flood, 11. Seamas Keogh, 12. Stephen Doherty, 15. Kevin Jordan, 19. Billy Banda (Goal '49), 22. Ryan Rainey (C), 26. Tony McNamee, 27. Patrick Ferry, 30. Jamie Watson, 55. Matthew Makinson.
Subs: 25. Oisin Cooney, 31. Rory Kelly, 3. Max Johnston, 6. Noe Baba (Goal '60), 10. Daniel Stokoe, 14. Caoimhin Porter, 21. Damian Duffy, 28. Aaron McLaughlin, 42. Max Hutchinson.
---