Kerry FC today announced the signing of former Brentford goalkeeper Lee Axworthy on a permanent deal
Axworthy, an Irish national, makes the move cross channel in what will be his first taste of League of Ireland Football. Originally born in Dublin, Lee lived in the Kingdom until he was 6 and went to primary school in Milltown. Lee's aunty lives in Lispole and his grandparents are from Milltown, so Kerry roots are strong with our new goalkeeper who often visited the south west in off season breaks. Lee's football career began in St Albans City before joining Brentford U19's at the age of 16 before going on to the Brentford B team set up training alongside the main team. Lee made multiple appearances at U23 level facing the likes of West Brom and Oxford United.
In recent years, Axworthy has been playing non-league football in the UK for the likes of Kings Langley FC, Hertford Town and Welwyn Garden City in the Southern League.
Our new goalkeeper will wear the number 32 shirt for the remainder of the season.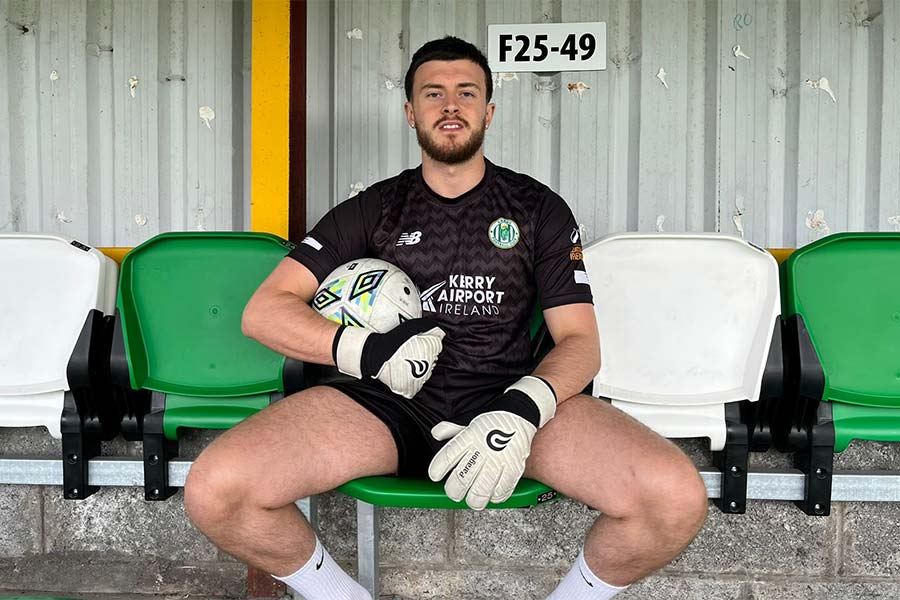 Speaking on his signing for the League of Ireland newcomers, Axworthy said "I wanted to come home to Ireland to explore a few opportunities with different clubs but the one that made the most sense was here in Kerry as it is an exciting project to be part of ( it's not often you get the opportunity to join a brand new club).  I'm looking forward to representing a place that's close to my heart and helping them to get some points on the board in the second half of the season. I have been made very welcome and I'm really enjoying spending some time with my family too. I'm ready to go and it's great to be back home!" he said. Axworthy added "I feel like I have gained some solid experience in England that will help me in the LOI and hopefully can help the lads too."
First Team Manager Billy Dennehy said "Lee is a young goalkeeper who has a great pedigree in the game especially from his time with Brentford as well as other clubs in the UK. He reached out to the club in relation to coming in training, given his family ties to the county. I knew straight away he was a player with a great background in the game, given his understanding and ability. But he was probably at a bit of a crossroads in his career like many young players, travelling around trying to find a suitable fit and finding somewhere where you are comfortable to push forward. Even though he was only in with us for a few days, Lee got the feeling from us here in Kerry FC and showed a great desire to wear the Kerry shirt despite other opportunities in the league. For him to want to come to our group just shows the type of environment we offer our players here. So ya, delighted to have Lee here, I think he will be a big addition to us on and off the pitch and I'm excited to see him togged off in Kerry FC gear."