By David Moriarty. Photos by Michael Gough
On Friday evening, Kerry FC travelled back up to Eamonn Deacy Park, the home of Galway United for the first time since the 10th of March, where the Kingdom suffered their worst defeat so far this season with a 9-1 loss. It was the first big test Kerry FC had since coming into the Division, coming up against favourites for promotion and were played off the park in a night to forget for Billy Dennehy's men.
Kerry were unlucky not to get at least a point away to Bray last week in a narrow 3-2 loss. The travelling side have only scored two goals since beating Athlone town away on the 12th of May. Scoring them two goals last week will hopefully show they are getting an eye for goal as they face the clear league leaders.
During the week, there was good news as young midfield maestro Cian Barrett decided to stay in Tralee for the rest of the season on loan from Shamrock Rovers. Even as an 18-year-old Cian has brought valuable experience from Rovers to help Kerry in their inaugural first season in League of Ireland soccer.
Speaking to the media on Monday ahead of the game, Kerry FC manager, Billy Dennehy hoped that after two previous games against Galway, his side can test themselves against basically a premier division side who are destined for promotion this year.
It could either be a night of good education for the Kerry boys or another awfully long night against the tribesmen.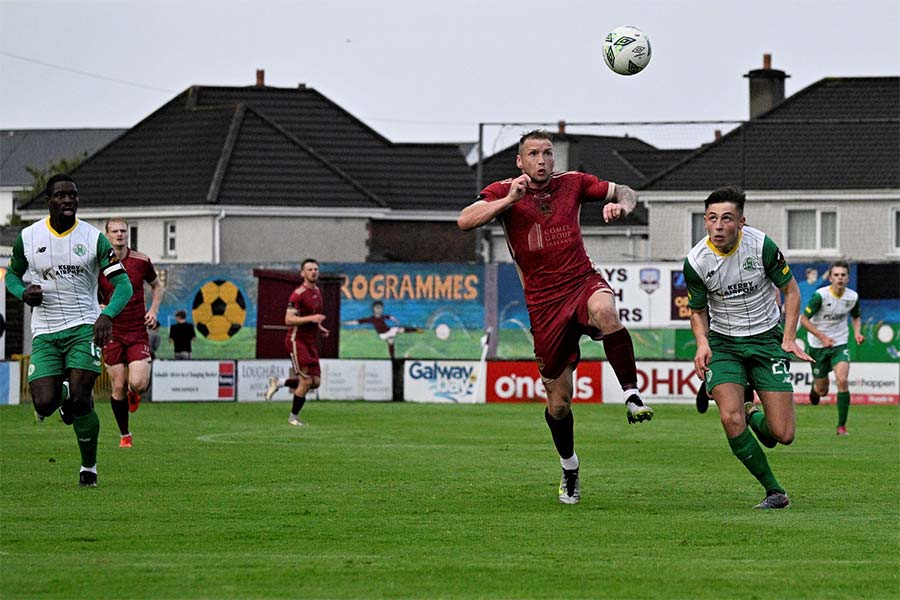 First Half
The opening stages of the first half were quite even. So much so it was Kerry who surprisingly took the first chance of the game. A cross into the box directed onto the head of Ryan Kelliher who did not get much power on it and was subsequently gathered easily by Brendan Clarke in the tribesmen sticks.
Kerry were coping very well with the league leaders and did not look out of their depth. Another chance would come for Kerry's number nine just four minutes later when a pass in from Sean McGrath came to Ryan in space on his left foot. His effort was strong but was parried away once again by Clarke.
All of Kerry's hard work in the opening ten minutes of the game would go unfairly undone when Galway took the lead. A cross into the box from Regan Donelon appeared to beat Kerry's offside trap and Maurice Nugent headed home to make it 1-0.
Kerry kept going despite going one behind. And nine minutes after Galway took the lead, Kerry had two huge penalty shouts. The first of which was for a push on Ryan Kelliher who was once again making himself a nuisance in the box and the second a hand ball shout that was waved away without hesitation by Kevin O'Sullivan.
Another chance for Kerry and Ryan Kelliher went begging as his effort from close range went just over the crossbar. By watching the game, you would not think it was 1st v 10th. Kerry had the league leaders metaphorically biting their nails the closer they got to an equaliser.
As the half came to a close, Kerry were put under slight pressure with an effort from Maurice Nugent hitting the bar and a ball swung into the box for a corner cleared off the line. Galway were both unlucky not to go in leading by more at half time and lucky that Kerry were not leading themselves.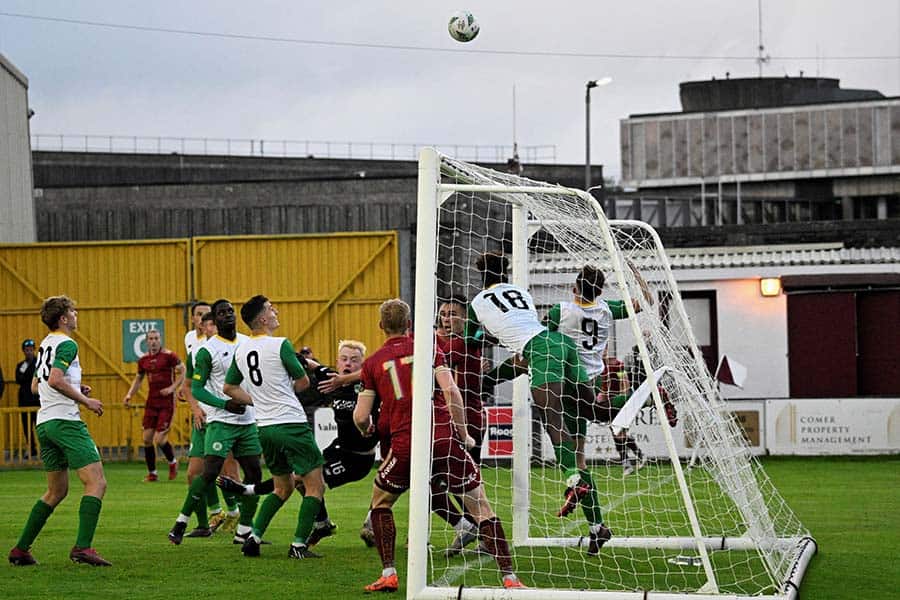 Second Half
The second half started as the first finished. Kerry having a chance. This time it was Sean McGrath who had a shot going over the crossbar from the edge of the box. It was getting heated on the touch line as Galway started to feel the pressure. Both Ollie Horgan and Robert Slevin went into the referee's book during the exchange.
Kerry kept knocking on the tribesmen door and were very unlucky not to capitalise at least twice. The first started with a free header from Leo Gaxha which was superbly saved by Brendan Clarke and a contender for save of the season at that. The second came from Ryan Kelliher who followed up with a driven shot that went just wide of the left post. With seventeen minutes to go in the game, it only felt like a matter of time before the Kingdom where to equalise.
The attacking from Kerry was only possible due to the well-structured core that the Kingdom had set up from the start. Kevin Williams and Sam Aladesanusi left nothing begging at the back and the likes of Ronan Teahan, Cian Barrett, and Matt Keane put great shifts in at midfield challenging for every loose ball. Sean McGrath ran over every blade of grass possible on the pitch and had nothing left in the tank by the end of the game.
Kennedy Amechi entered the frame and threatened with a shot just outside the box but never troubled the Galway defence. Despite Kerry's best efforts, Galway managed to scrape the 1-0 win. The travelling side were a couple of better decisions and a few huge chances away from coming out of Eamonn Deacy Park with all three points and must be applauded for a great away performance from players, coaches, and travelling supporters who never stopped driving on the team throughout the ninety minutes. Kerry return to Mount Hawk Park next Friday as they face Treaty United. With the performance that was put in on the night, deliver the same next week and there is nothing to say Kerry FC will not get their first home win of the season.
Kerry Fc Team: 16. Callan Scully, 17. Nathan Gleeson, 15. Kevin Williams (C), 18. Samuel Aladesanusi, 22. Cian Barrett, 3. Sean O'connell, 8. Matt Keane (C), 23. Ronan Teahen, 7. Sean Mcgrath, 10. Leo Gaxha, 9. Ryan Kelliher
Subs: Richie Healy, Andy Quaid, Kennedy Amechi, Togor Silong, Alex Ainscough, Shane Guthrie, Graham O'Reilly, Cian Brosnan.
Galway United Team: 1. Brendan Clarke 2. Conor O'keefe, 3. Regan Donelon, 4. Robert Slevin, 6. Maurice Nugent (Goal '10), 7. Stephen Walsh, 14. Ronan Manning, 17. Vincent Borden, 22. Conor Mccormack (C), 24. Edward Mccarthy, 10. David Hurley.
Subs: Alex Rutter, Killian Brouder, Michael Walsh Rowe, Robert Manley, Francely Lomboto, Evan O'connor, Steven Healy, Oisin O'reilly, Brian Cunningham.