On Friday night Kerry travelled to Bray in an attempt to record their first points of the season. Many loyal supporters travelled to Bray with them for their first away game of the campaign.
Coming off the back of a 2-0 defeat last week at home to Cobh Ramblers, Kerry hoped to get their season up and running at the Carlisle Grounds. The Kerry team made two changes to the starting eleven that played last week in Mounthawk Park with Leo Gaxha who was very impressive off the bench last time around and also Andy Quaid getting his first start of the season. On the other side, Bray kept their starting eleven completely unchanged after their late 1-0 win away to Treaty United last week.
First Half:
As the game kicked off the first chance for either side came in the fourth minute when a long diagonal ball from Bray was received well into space down the right wing. The ball was cut back, and Chris Lyons just dragged his effort on goal wide. A free kick was awarded to Bray just three minutes after on the same wing however, Conor Crowley's delivery was easily dealt with. Kerry were awarded a free kick of their own down the other end when Trpimir Vrljicak showed fantastic close control and was taken down just a few yards outside of the box. Unfortunately for Kerry, the low-fired free kick was easily dealt with by Wanderers keeper Alex Moody. Bray had their decent share of possession in the opening stages, and they got their reward in the fifteenth minute when central midfielder Cole Omorhiomwan peeled off around the back post from a corner and headed in making it 1-0 to Bray.
Just two or three minutes after the goal Bray got through again and Wayne Guthrie was called into action making a fantastic save from a one-on-one effort. In a half that was dominated by Bray, Wayne Guthrie was brilliant for Kerry and kept his side out of further danger a few times in dangerous periods of the game. Sean Mcgrath was very good also in the opening exchanges for Kerry, trying to pick his way through the bray midfield, but they were unfortunately not leaving any doors open early on.
After half an hour Sean Kennedy found himself in a pocket of space and tried a shot roughly twenty yards from goal. Alex Moody was level to the effort and a lot of that was due to the pitch being a bit sandy in parts, which seemed to slow down the pace of the game in certain areas. The best chance of the half by far for Kerry came in the forty-second minute when a great piece of play down the right-hand side of the box was met by Leo Gaxha who pulled the trigger early but was blocked and dealt with in the end leading to a goal kick. Just before halftime, Sean Kennedy was making himself a nuisance once again for the Bray defense down the right when he defence went passed two players with ease and drilled a low cross into the box, only for it to be met again by Moody.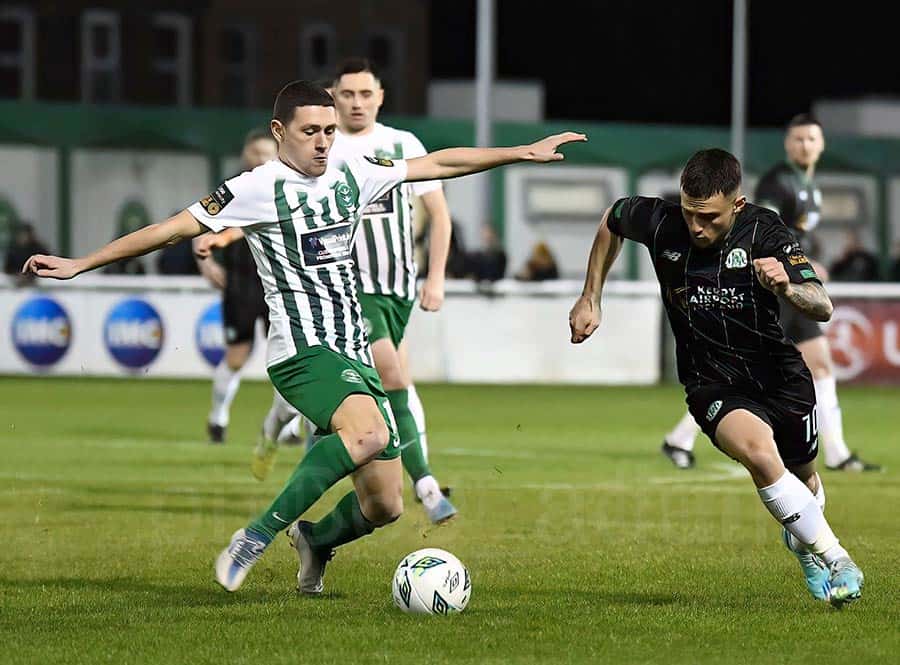 Second Half:
The second half started and the positive play and missed efforts toward the end of the first half from Kerry were cruelly pounced on by Bray as they went 2-0 up. A fantastic cross from the right by Ger Shortt was met by a brilliantly finished diving header from Chris Lyons into the bottom right corner.
Kerry had a lifeline though when an unsure-looking Bray defence was carved open by a simple pass, Leo Gaxha had all the time in the world to score Kerry's first senior Airtricity League goal. An enormously proud moment for the young lad which will be the answer to a quiz question in years to come, I am sure.
Wayne Guthrie was called into action once again just a couple of minutes after the Kerry goal with a great save to put it out for a corner after a well-directed header on goal. Luckily enough for Kerry, Guthrie has been immense between the sticks in the opening two games of the campaign. Bray would, unfortunately, take back their two-goal lead in the fifty-seventh minute through a carbon copy of the first goal. A delivery into the box from a corner and again Cole Omorhiomwan headed home to restore Bray's two-goal lead.
Bray started to close out the last twenty minutes or so in quite comfortable fashion and Kerry did not really threaten the goal as much as they would have hoped to in the latter parts of the game. They did come close however with about four minutes to go through a good chance from Nathan Gleeson who came on at half time. A great run down the right flank showing blistering pace had his shot smothered in the end by Moody and Bray Wanderers went out 3-1 winners. A tough result to take tonight after there was a glimmer of hope of getting back into the game.
Kerry FC returns to Mounthawk park next Friday, the third of February and a sold-out crowd will be in attendance as they take on Treaty United in a Munster derby fixture with the main hopes for the Kingdom being making that climb up the table.
Bray Wanderers Team:
1. Alex Moody, 3. Len O'Sullivan, 7. Conor Crowley, 8. Harry Groome, 9. Chris Lyons (Goal 48'), 11. Ger Short, 12. Cole Omorehiomwan (Goal 16', 57'), 14. Dane Massey (C), 18. Max Murphy, 19. Jake Walker, 21. Guillermo Amirall
Subs: 2. Eoin Farrell, 4. Jack Hudson, 6. Luca Lovic, 10. Conor Davis, 15. Ben Feeney, 16. Callum Thompson, 20. Conor Knight, 23. Joe Power, 25. Stephen Mcguiness
Kerry Fc Team:
1. Wayne Guthrie, 3. Sean O' Connell, 4. Shane Guthrie, 5. Kalen Spillane, 7. Sean Mcgrath, 8. Matt Keane (C), 10. Leo Gaxha (Goal 50'), 11. Sean Kennedy, 14. Andy Quaid, 15. Kevin Williams, 20. Trpimir Vrljicak
Subs: Callan Scully, Alex Ainscough, Nathan Gleeson, Samuel Aladesanusi, Ronan Teahen, Jonathan Hannafin, Stephen Mccarthy, Graham O' Reilly, Cian Brosnan.