On Friday last, Kerry FC were at home for the second time this week as they faced promotion hopefuls Athlone Town in Mount Hawk Park. The last time out between these two sides came in favour of the Kingdom who picked up their first and only win of the season so far. It was a very historic win for Kerry FC and was helped by goals from Nathan Gleeson and Ryan Kelliher.
Since then, Kerry are yet to pick up a win at home and results have been varied. A fantastic draw away to Finn Harps and a 6-0 loss at home to Waterford this week alone shows how much of a tough learning season it has been for the boys in green.
This is the midway point of the season, and all teams have a full week off to rest and recuperate, so hopefully Kerry can end the first half of the season on a high note. The Kerry team changed around a bit due to a few suspensions but one man who was back to the starting lineup against Finn Harps was captain Matt Keane. This week was the first time Matt started a home game in Mount Hawk since funnily enough they played Athlone Town in March, so he would be looking to make an enormous impact in front of the home faithful.
In the dugout notes, Kerry FC Manager, Billy Dennehy described the game as "the perfect opportunity" for the team to put things right before the break week especially after the big loss at home on Monday.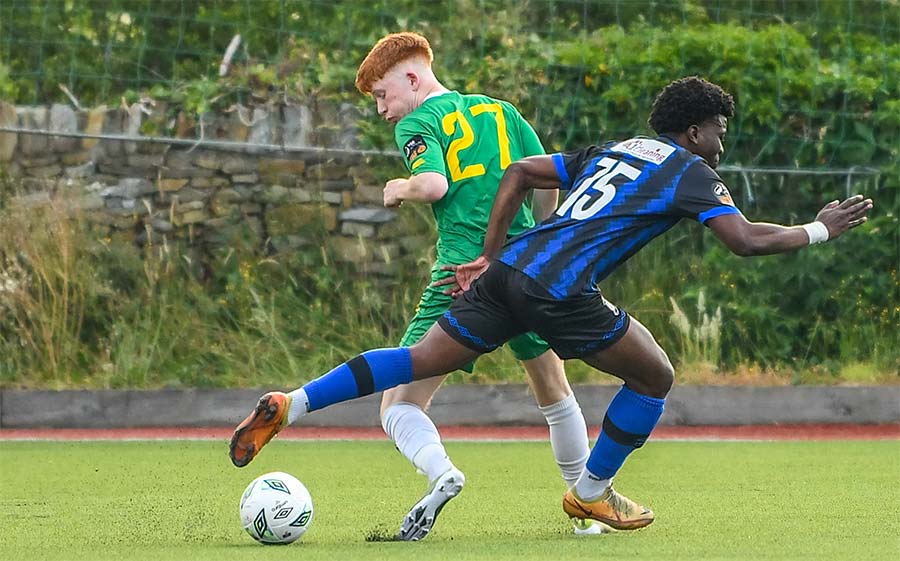 First Half
The first half started quite even in possession with no big chances for either side. Athlone started slightly on top with the ball more in their attacking half, but they made nothing of it. It was the home side with the first big opportunity when they had a goal ruled out for offside in the fifteenth minute. Togor Silong's tackle set Kerry away but a slow pass into the path of Ryan Kelliher which took a deflection was brilliantly finished by the number nine, but the linesman ruled it out questionably.
After the offside goal, Kerry started to gain a foothold in the game, and they played the ball around much calmer and more controlled. Kerry would need to capitalize on this period of pressure if they wanted to bring something in at half time to give the visitors a run for their money.
Against the run of play, Athlone would have their first big chance of the game. A pass along the ground, flicked on by Frantz Pierrot, made its way into Adam Lennon.
His left-footed shot on the left side of the box was judged poorly and his effort went wide from the bottom right corner, helping Kerry feel relieved.
This first half started to look like a game of chess, as it was end-to-end and only seemed like a matter of time until one of the sides would edge ahead. Kerry came close again with fifteen minutes left in the half. A trademark long throw-in from Sam Aladesanusi arrived at Sean McGrath who flicked the ball on beautifully to Ronan Teahan at the byline. Ronan crossed back into McGrath who had a backheel effort gathered by Enda Minogue.
To the home fans dismay, it would be Athlone to go ahead first. A throw put into the feet of Valerii Dolia broke into the box at pace and had his left foot shot whipped around and found the bottom left corner. A goal that Kerry would be very dissatisfied with to give away so close to half time as it really came from nothing. From the very even first half it seemed like Kerry once again had it all to do in the second.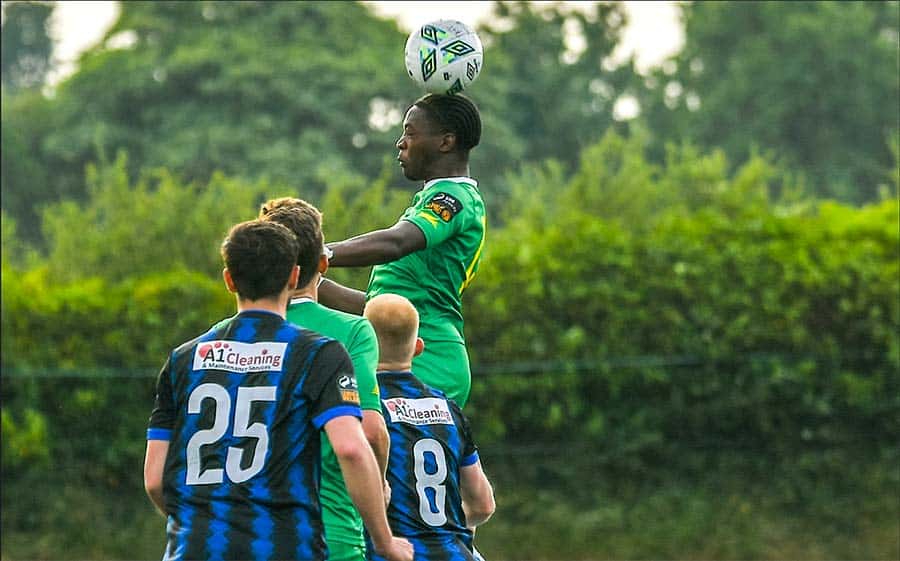 SECOND HALF
The second half started as a carbon copy of the first, Athlone were slightly on top, but nothing separated the sides. Kerry seemed to be one good pass away from being in on goal on every attack. It was a half of football dominated by only one team. That was Kerry FC. A fantastic cross from deep into the box by Matt Keane put serious pressure on the Athlone backline. A ping pong type of attack saw Kerry not being able to get a shot off and Athlone struggled to clear the ball before eventually doing so.
As the half went on Athlone really started to feel the constant pressure that the home side were putting them under as they struggled to get out of their own half. Athlone's defensive line was one of two. Either very impressive and well-structured or saved by poor linesmen's decisions that stopped Kerry from having a couple of real opportunities deep into the attacking third. Most in Mounthawk would agree it was the second.
With just eighteen minutes to play, Kerry seemed to have leveled. A pass through the middle by Ronan Teahan was received in Dennis Bergkamp-style fashion by Ryan Kelliher who turned his defender superbly. He took a left-footed shot from just nine yards out that seemed to find the bottom left corner only for Athlone goalkeeper Enda Minogue to pull off a save-of-the-season contender and tip it onto the post. This save kept Kerry at bay again and made them feel like it was not their night.
The Kerry lads will have nightmares of Minogue in the days to come as he popped up again to catch a thumping cross into the box from Teahan which seemed definite to find someone in a Kerry shirt.
The closing minutes of the game were still all Kerry and the Athlone lads played as if the 1-0 would be enough to keep them safe. Evidently, it would be enough, and Athlone left Mounthawk Park with a stolen three points.
Kerry would leave both devastated that they could not nick something but also immensely proud at the fact that they were the better team on the night. This break comes at the right time and the boys can rest and relax before kicking off the second half of the season away to Bray Wanderers on the twenty-third of June.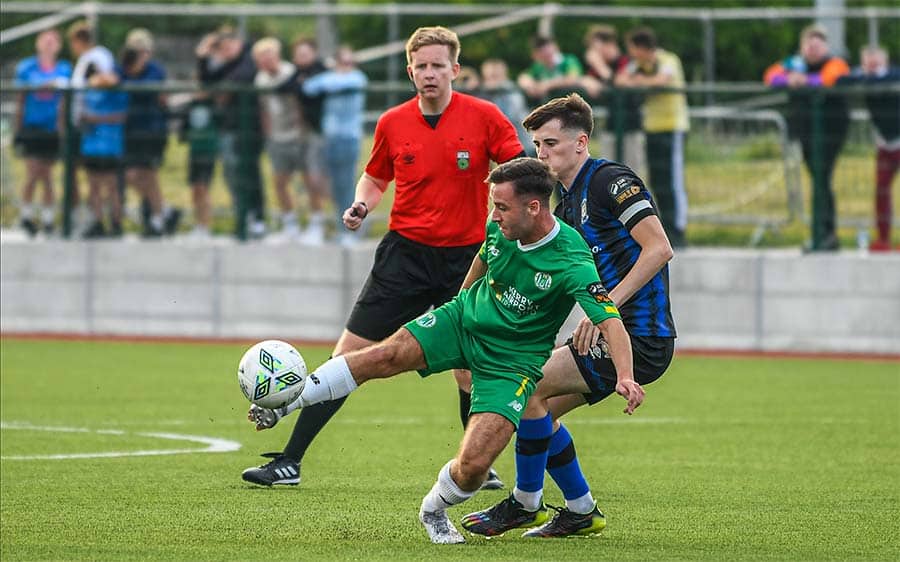 Kerry FC Team:
30. Aaron O'sullivan, 2. Rob Vasiu, 27. Graham O'Reilly, 18. Samuel Aladesanusi, 24. Jonathan Hannafin, 22. Cian Barrett, 13. Togor Silong, 8. Matt Keane (C), 7. Sean McGrath, 23. Ronan Teahan, 9. Ryan Kelliher

Subs: Callan Scully, Andy Quaid, Kennedy Amechi, Alex Ainscough, Sean O'Connell, Cianan Cooney, Stephen McCarthy, Cian Brosnan,
Athlone Town Team:
1. Enda Minogue, 2. German Fuentes Rodriguez, 4. Noah Van Geenen, 6. Patrick Hickey, 7. Adam Lennon, 8. Aaron Connolly, 9. Frantz Pierrot, 10. Valerii Dolia (Goal '30), 15. Haji Abdikadir, 18. Oisin Duffy (C), 25. Matthew Leal.

Subs: Conor Wall, Jack Kavanagh, Charles Mutawe, Blake Ryan, Aaron Mcbride, Nazar Zubkov, Josh Mcglone, Donal Curtin, Matthew Baker.
---