Kerry FC 2-2 Cobh Ramblers
By David Moriarty • Photos by Adam Kowalczyk
The bank holiday Monday saw Kerry FC back at home once again to third placed Cobh Ramblers. After another tough lesson in League of Ireland football last Friday away to Waterford, Kerry would hope that the home crowd can give them a much-needed boost especially as they head towards the round two game of the Sports Direct FAI Cup on Friday against Drogheda United.
Cobh came into the game with a mixed bag of results in recent weeks winning once since the 30th of June. They managed to snatch a point on Friday night last as a ninety-second minute penalty scored from Jack Doherty ensured Ramblers would not come into the bank holiday weekend with a loss.
Kerry were unfortunate not to get a goal early against Waterford and this would cost them as they went on to lose 3-0 away to the blues. An early goal in that one from the Kingdom could have really changed the outcome of the result.
After the result on Friday, Kerry FC manager Billy Dennehy described Waterford as "in a league of their own." Ahead of the game on Monday, Dennehy talked about the opposition in Cobh Ramblers. He mentioned that they have had a brilliant season to date and has no doubts that they will go up. With that said he also said that Kerry FC have their own targets to reach for the rest of the season, so if they must slow down Cobh's promotion hopes, they will try their utmost to do that for the fans in Mounthawk Park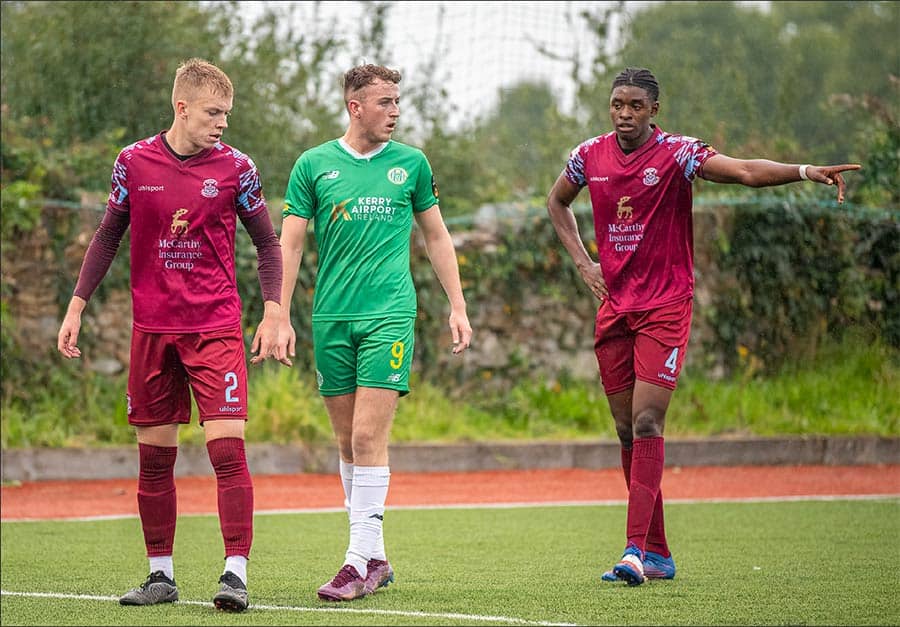 First Half
The first chance of the evening came in the seventh minute when a free kick from the right side of the box whipped in superbly by Jack Doherty was aimed right into the middle of the six-yard box. Luckily, Kevin Williams was there to clear away the danger and it resulted in a corner to Cobh that did not amount to anything.
Kerry did well in transition in the opening stages. Leo Gaxha was able to create space and the over-the-top pass into that space was working in the first twenty minutes. Sean McGrath made fans get up on their feet with a turn of pace that was followed up by a lovely little nutmeg. A last stitched tackle haltered that great solo run and let Ramblers feel relieved.
The relief would soon turn to sorrow for Cobh as Kerry would take the lead in the twenty-first minute. Kevin Williams played a one-two with Rob Vasiu and the second pass would again find Leo Gaxha in that space behind the defence. He would take on the ball for a few yards down the right side of the box and his low pass across the box was there to be tapped home by Ryan Kelliher. Kelliher with his ninth goal of the season as Kerry took the lead for the first time in the first half of a league game since they played Treaty United at home in early July.
Since scoring the goal, Kerry faced extraordinarily little pressure and enjoyed most of the possession, which is something they have not been able to say for many games this season. Very quick and brave on the attack which Cobh were not able to keep up with for large parts of the first half.
Five minutes before half time, an over-the-top pass from Cobh was taken down brilliantly by their most impressive player at that stage, Jack Doherty. Doherty took on the shot from close range at a tough angle, but Lee Axworthy came in to smother the shot. Axworthy would be called into action again only a few minutes later to push away a corner kick and help Kerry FC keep their lead at half time as they led the first forty-five 1-0.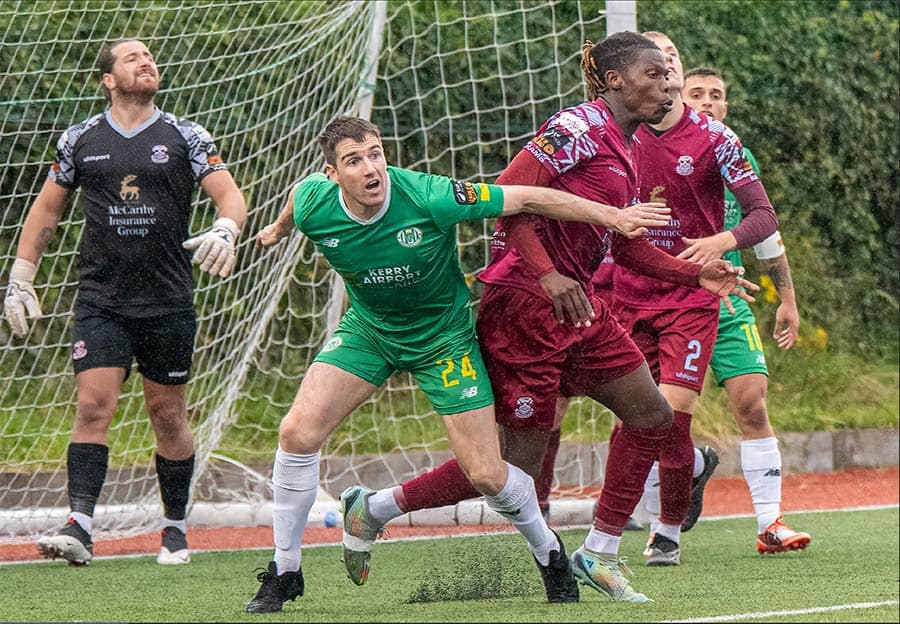 Second Half
Kerry started the second half as fast as the first. A remarkably high intensity was opened with welcoming arms by the home support. In the opening eight minutes of the second half neither team hugely threatened with Sean McGrath having the only shot as his effort from outside the box went just over the crossbar.
Cobh nearly equalised in the fifty-fifth minute when a corner on the left side from Dale Holland flashed past everyone in the six-yard box, it looked like Dean Larkin would finish it off, but he was not able to get anything on it.
Even with that quick scare, just five minutes after that chance, Kerry would double their lead through that man again Ryan Kelliher. A corner that was delivered in by Leo Gaxha, reached Kelliher at an awkward position, so Kelliher improvised. A fantastic scissor kick effort from the Number nine took a bounce over the Cobh number one Lee Steacy and into the back of the net putting the Kingdom into dreamland.
The two-goal lead would be cut in half just moments later when Rambler's substitute Mikie Rowe lashed a shot from just inside the edge of the box and a great finish into the bottom right corner would put Kerry under unnecessary pressure after they had done so well to obtain that two-goal lead.
Kerry were starting to feel the pressure as a Brendan Frahill header inside the box from a long throw had to be dealt with from a super save by Lee Axworthy. Kerry needed to take the sting out of the game and relax the players around each other as everyone in the ground feared the nerves were about to get the better of them.
They would cave to the pressure in the eightieth minute when a long cross into the box proved to be too hard to deal with by Axworthy as he punched the ball as far out as Jack Doherty who had a free goal to finish off the chance which is what he did and with pure conviction.
It would then turn into a chess game between the two sides as they exchanged two huge A chances from close range. They fans asked themselves would it finish all square or would one of the sides call checkmate.
As it turned out neither would and a very entertaining game ended 2-2. Kerry would most probably be extremely disappointed not to take all three points, but at the start of the game everyone in attendance would have been delighted with a point against third placed opposition. That disappointment will help them with confidence in the coming weeks as they know what they must do in terms of game plan going forward. The intensity and constant pressing the Kingdom showed tonight will be needed in the future and I am sure that is what Billy Dennehy, and his coaches will drill into their players especially before they face Wexford on Friday in Ferrycarrig Park.
---
Kerry FC Team: 32. Lee Axworthy, 24. Jonathan Hannafin, 5. Ethan Kos, 2. Rob Vasiu, 15. Kevin Williams, 22. Cian Barret, 23. Ronan Teahan, 3. Sean O'Connell, 10. Leo Gaxha (C), 7. Sean McGrath, 9. Ryan Kelliher (Goal '23, 60).
Subs: Ethan Nganou, Martin Coughlan, Matt Keane, Alex Ainscough, Nathan Gleeson, Togor Soling, Cian Brosnan, Andy Quaid, Kennedy Amechi.
Cobh Ramblers Team: 1. Lee Steacy, 2. Michael Mccarthy, 4. Justin Eguaibor, 5. Brendan Frahill, 7. Wilson Waweru, 10. Jack Doherty (Goal '82), 12. Darragh O'Sullivan Connell, 15. Alec Byrne, 17. Dean Larkin, 28. Dale Holland, 39. Jason Abbott (C).
Subs: Darragh Burke, Cian Browne, Charlie Lyons, Pierce Phillips, Mikie Rowe (Goal '67), Luke Desmond, Liam Kervick, Tiernan O'Brien, Luke Casey.