Kerry FC 0-1 Drogheda Utd
By David Moriarty • Photos by Adam Kowalczyk
Friday could not come fast enough for the home faithful of Mount Hawk Park. The Sports Direct FAI Cup second round arrived in Tralee. It may have been Rose of Tralee weekend but at a quarter to eight all focus was on the game.
Kerry FC came into this round after a well-fought 2-0 win over Ringmahon Rangers that saw top scorer Ryan Kelliher get the two goals on the night coming off the bench. Drogheda United had more of a battle coming from behind to win the game with ten minutes to go against Sligo Rovers. Ryan Brennan scored from the spot that night to book Drogheda's spot into the next round of the cup.
Kerry were in good goal scoring form coming into the night, but holding onto their leads has been a tough ask for them. They went up twice against both Cobh Ramblers and Wexford FC but were not able to hold on late on. With that said, it was a totally different obstacle on their hands. A Premier Division side being faced for the first time ever at senior level for the Kingdom would be no walk in the park.
Drogheda sit third bottom in the Premier Division just ahead of Cork City and UCD, and with a relegation battle against Cork City next Friday, the question begged. Could there be a historic cup upset? There was and never has been anything like the cup.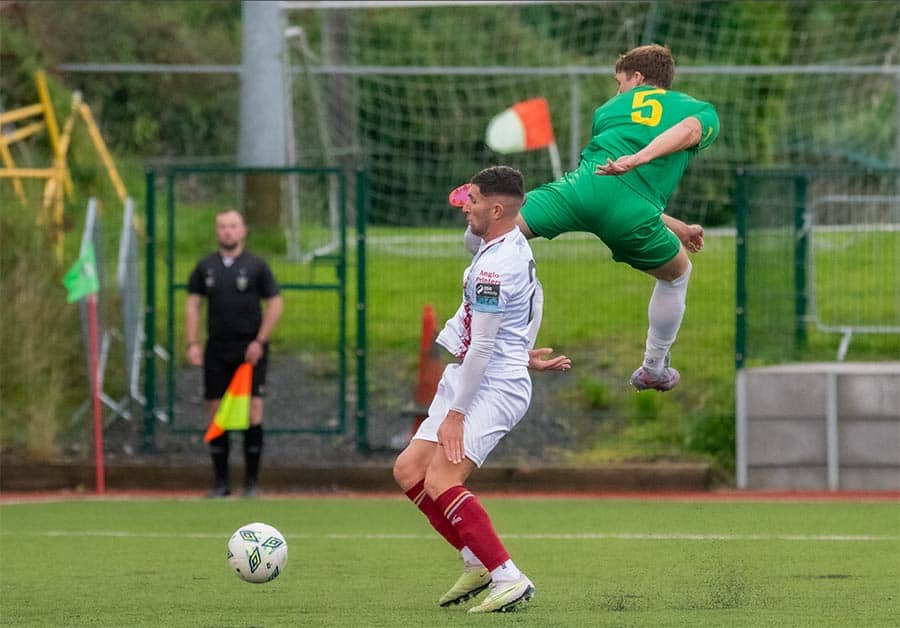 First Half
Drogheda went ahead after just seven minutes. A cross into the box on the right side from Dayle Rooney broke to Kyle Robinson. He scuffed the shot and surprised Lee Axworthy as Kerry's goalkeeper got a hand to it, but the ball trickled into the back of the net to give the Premier side the lead.
Kerry put the early goal behind them quickly as Leo Gaxha nearly scored another goal of the season contender. Drogheda lost the ball with a loose pass in midfield and was picked up by Gaxha. Gaxha saw no other option in front of him and let it fly from 35 yards out. His effort swerved in the air but Andrew Wogan in the away net was equal to it and put it out for a corner, which subsequently led to nothing.
The early goal was a tough one to take, but Kerry showed great maturity to take it out of their minds straight away and play their usual game. The experience gained throughout the season showed in abundance and despite the early goal looked like the team on top which was something the home crowd would be extremely happy with.
Kerry added another shot on target through Sean McGrath just on the edge of the box, but it unfortunately rolled straight into the arms of Wogan.
From all of Kerry's great attacking play, it was evident that against such a big side it would only take one pass from Drogheda to open the Kerry defence and punish them. It then became hugely important that Kerry would keep their shape and not give up any easy chances to further help them in an attacking sense.
The remainder of the first half stayed much the same. Kerry had a decent amount of possession, but Drogheda were deadly going forward. At the end of the half. It still hung in the balance, if Kerry got a goal early in the second half the home side knew they would be well within a chance. At half time it ended 0-1 to the visitors.
Second Half
Early into the second half, Kerry were doing a bit of chasing as Drogheda passed around the ball with ease. Every time Kerry got forward, they made space for themselves and looked close to creating something. The pressure on Drogheda however was non-existent and were yet to come out of second gear in the first eleven minutes of the second period.
Drogheda captain Gary Deegan nearly doubled the lead as he had an effort from twenty-five yards bounce off the crossbar. Quickly after the goal scorer Kyle Robinson tried an effort from the halfway line as he hoped to catch out Lee Axworthy, but Lee was equal to it and managed to put it out for a corner from an audacious and incredible effort. Signs were all aiming towards a second from Drogheda United.
The first substitutes introduced were Kennedy Amechi and Rob Vasiu. They brought up the intensity right away and helped that right side of the pitch which was struggling with energy. Drogheda were starting to feel a bit of pressure mounting as they resorted to a few cheap fouls to stop the ball from going further up the pitch. Kerry really held their own and the introduction of Daniel Okwute helped them bolster their attacking options.
Despite a late chance from a Sam Aladesanusi header which was deflected, Kerry's FAI Cup dream was over as it finished 0-1 to Drogheda United. Kerry had absolutely nothing to be ashamed of as they played out of their skin against a side that on paper should have beaten them a lot easier than they did. It is an incredibly young side that Kerry have and they will only get better the more they play in these types of situations. In stages, they looked like they had a chance, but again the experience Drogheda United possessed was just enough to see them over the line on this occasion as they booked themselves into the quarter final of the cup.
Kerry are back in League of Ireland action next Friday as they travel to Limerick to take on Treaty United.
---
Kerry FC Team: 32. Lee Axworthy, 15. Kevin Williams, 18. Samuel Aladesanusi, 24. Jonathan Hannafin, 5. Ethan Kos, 3. Sean O'Connell, 22. Cian Barrett, 23. Ronan Teahan, 7. Sean McGrath, 10. Leo Gaxha (C), 9. Ryan Kelliher.
Subs: Ethan Nganou, Rob Vasiu, Alex Ainscough, Martin Coughlan, Kennedy Amechi, Togor Silong, Daniel Okwute, Sean Kennedy, Cian Brosnan.
Drogheda United Team: 35. Andrew Wogan, 4. Conor Kane, 5. Conor Keeley, 7. Darragh Markey, 8. Gary Deegan (C), 9. Kyle Robinson (Goal '7), 11. Adam Foley, 16. Dayle Rooney, 18. Jamie Egan, 19. Ryan Brennan, 21. Luke Heeney.
Subs: Colin McCabe, Matthew O'brien, Jarlath Jones, Emre Topcu, Aaron Mcnally, Warren Davis, Darragh Noone, Michael Noone, Michael Leddy, Luke Wade Slater.
---