There was another first for Kerry FC on Friday as it was the first time that the television cameras came to Mounthawk Park. As Galway United were closing in on the League of Ireland First Division title some coverage of the game was shown during the live television broadcast of St. Patrick's Athletic v Dundalk. A huge opportunity for the Kingdom as people around the country were able to see inside Mount Hawk for certainly not the last time.
The last time the two went up against each other it was a much tighter affair than games previously between the two sides. Galway won 1-0 in Eamon Deacy Park thanks to a headed goal from Maurice Nugent inside ten minutes. Despite Kerry's best efforts to get an equaliser, Galway held out and did what all the best teams do, winning even when they were not at their best.
For Kerry they took some huge positives from that game and have been close in all the games that they have played in since. Kerry FC midfielder Alex Ainscough sat down with the media this week and said everyone involved has been astounded by the progress the team has made since they took that heavy 9-0 defeat to Galway last March
Kerry FC manager Billy Dennehy said, "Nothing is impossible," when asked about maybe delaying Galway's celebrations. Even with the stats that are on show for the Kingdom this season, Dennehy said he knows that they are improving and that "in this game, anything is possible."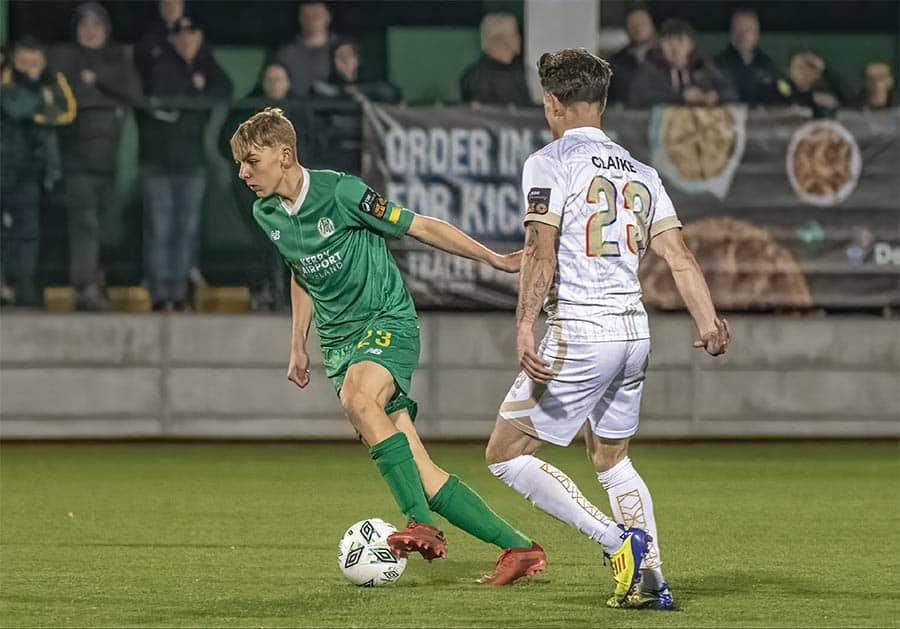 First Half
Kerry nearly got off to a dream start inside the first minute as Ryan Kelliher nearly put the Kingdom 1-0 up. Kelliher got into a great position on the edge of the box but unfortunately, his effort did not trouble Brendan Clarke in the Galway goal, and it went over the crossbar and out of trouble for Galway United.
As expected, Kerry felt a lot of pressure early on, but they were doing very well to deal with the champions elect. The early pressure resulted in a good chance for Edward McCarthy as he cut in well from the left wing to get his shot off. As he made his way in from the wing, he took his effort well, but it went left and wide of Lee Axworthy's near post.
Galway were getting closer to the opening goal of the game. A corner swung in on the left side had the ball bobbling around the six-yard box, but it was cleared to Kerr's relief. They nearly took the lead on the twenty-eighth minute when a clearance from Lee Axworthy was scuffed. The ball came out as far as Darren Clarke, thankfully Ethan Kos got back in time and tackled superbly to put it out for a corner.
It would be from that corner however that Galway opened the scoring in the game through Wassim Aouachria. The corner was delivered into a good area and Aouachria was completely free to finish off the chance and put Galway a step closer to the Premier Division.
Despite going one behind Kerry stook at it and had a couple of big opportunities to level up the score before the end of the first forty-five minutes. The first of which came to Sean McGrath. McGrath drove into good space outside the centre of the box and took a low driven shot along the floor, Clarke was equal to it and put it out for a corner keeping their lead intact. The second came to Leo Gaxha on the stroke of halftime. A fantastic through ball put Gaxha ahead of his marker but Brendan Clarke was there yet again to sweep away the danger.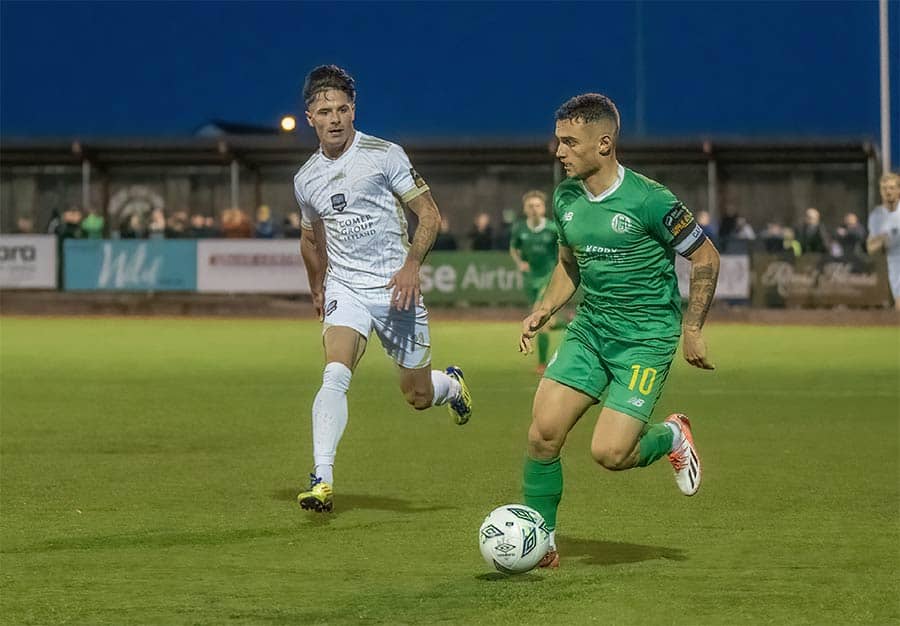 Second Half
The second half started with two fantastic Lee Axworthy saves. The first came from a Francely Lomboto shot but the best came when Wassim Aouachria had a remarkably close-ranged effort kept out by the English shot-stopper. Brendan Clarke tried to level up the match between the two keepers with a great save from a Sean O'Connell header inside the six-yard box.
With twenty minutes to go Kerry were finding it very tough to create many opportunities in their attacking half and they were punished by conceding a penalty in the seventy-second minute. Sam Aladesanusi brought down Francely Lomboto inside the area. David Hurley stepped up and converted the penalty to put the league leaders two goals ahead.
Despite a decent spell of possession from Kerry FC, Galway scored a third through Francely Lomboto who made himself a nuisance since coming on from the bench. The ball was being played around the box and was not dealt with. Kerry were punished for their naivety and Lomboto slotted the chance into the bottom right corner.
Six minutes later in the ninetieth minute, Galway added a fourth and had both hands on the First Division title. A corner delivered into the area met David Hurley and he got his twenty-fourth goal of the season from midfield, an outrageous stat that sealed a 4-0 win and promotion for Galway United who thoroughly deserved it over the course of the season.
Kerry tried their best and put in a good shift for the most part of the game, but Galway's experience was too much for them to handle and were thought another lesson in their first season of League of Ireland football, which some people seem to forget. Kerry make their way to Donegal next Friday to take on Finn Harps in the hopes of collecting a few more points before the season ends.
---
Kerry FC Team: 32. Lee Axworthy, 3. Sean O'Connell, 5. Ethan Kos, 18. Samuel Aladesanusi, 15. Kevin Williams, 11. Sean Kennedy, 23. Ronan Teahan, 19. Martin Coughlan, 10. Leo Gaxha (C), 7. Sean McGrath, 9. Ryan Kelliher.
Subs: Arthur Nganou, Rob Vasiu, Alex Ainscough, Cian Barrett, Togor Soling, Cian Brosnan, Daniel Okwute, Kennedy Amechi. Nathan Gleeson.
Galway United Team: 1 Brendan Clarke, 4. Robert Slevin, 5. Killian Brouder, 6. Maurice Nugent, 7. Stephen Walsh, 10. David Hurley (Goal Pen '73, '90), 17. Vincent Borden, 22. Conor McCormack (C), 23. Darren Clarke, 24. Edward McCarthy, 31. Wassim Aouachria (Goal '29).
Subs: Alex Rutter, Conor O'Keefe, Regan Donelon, Robert Manley, Aodh Dervin, David Tarmey, Francely Lomboto (Goal '84), Evan O'Connor, Oisin O'Reilly.