Kerry FC 0-0 Longford Town
By Ivan Hurley • Photos by Adam Kowalczyk
Impressive defensive display earns Kerry a point and clean sheet against promotion chasing Longford Town.
For the final time this season, Kerry FC faced Longford Town in a very entertaining match up in Mounthawk Park on Friday night. The visitors, buoyed by an impressive win over runaway leaders Galway United last time out, came to Mounthawk Park just 3 points off the play off places and were favourites to take the spoils.
But, like the pattern for the game in full, the intensity was high from both sides, with both pressing hard high up the pitch in a bid to win possession under the searing heat of an early autumn heatwave. Although the first half was uneventful, it was still an enjoyable game to watch as both sides battled mainly in the middle third. Kerry did have the opening chance of the game. A lovely move by Ryan Kelliher in the middle led to a neat pass to Leo Gaxha who's shot was parried by the goalkeeper and cleared from danger by Dylan Hand.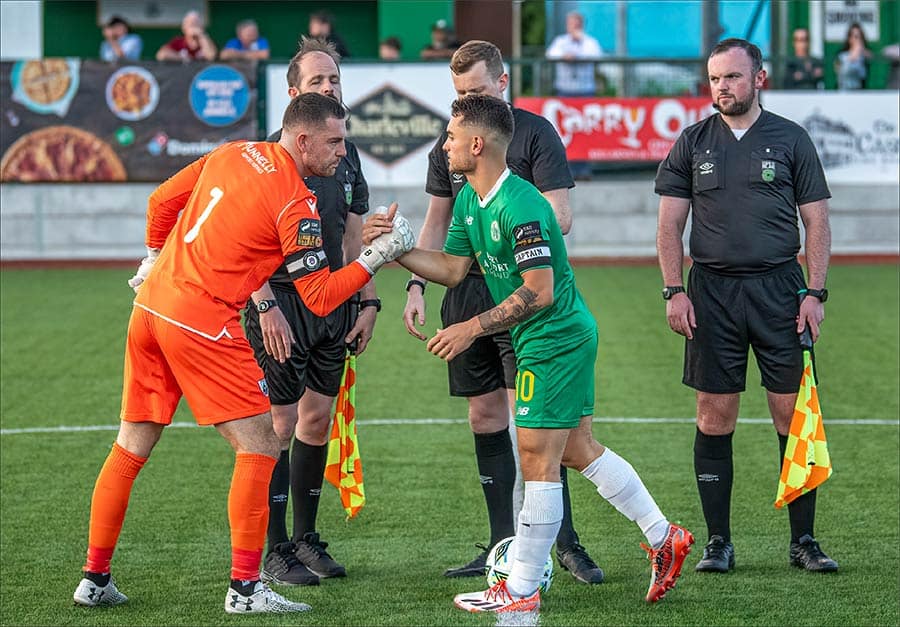 Longford looked like they would take the lead when the ball fell kindly to Wixted on the penalty spot but some smart defending by Samuel Alasesanusi and a quick Axworthy off his line meant Kerry snuffed out any danger. The remainder of the first half was rather uneventful but remained a tight affair. Longford did have a couple of set piece opportunities but Kevin Williams and Ethan Kos were on hand to clear any danger as the sides went in scoreless at the short whistle.
The first effort on goal was 10 minutes into the second period, when Armstrong broke free in the middle and his shot from the edge of the 'D' was well touched over by Axworthy in the Kerry goal. But Kerry had chances of their own in the second half, with Gaxha coming the closest on 65 minutes. A lovely ball from Daniel Okwute met the on running Gaxha who's shot in the end was tame and comfortably gathered by Brady in the Midlander's net.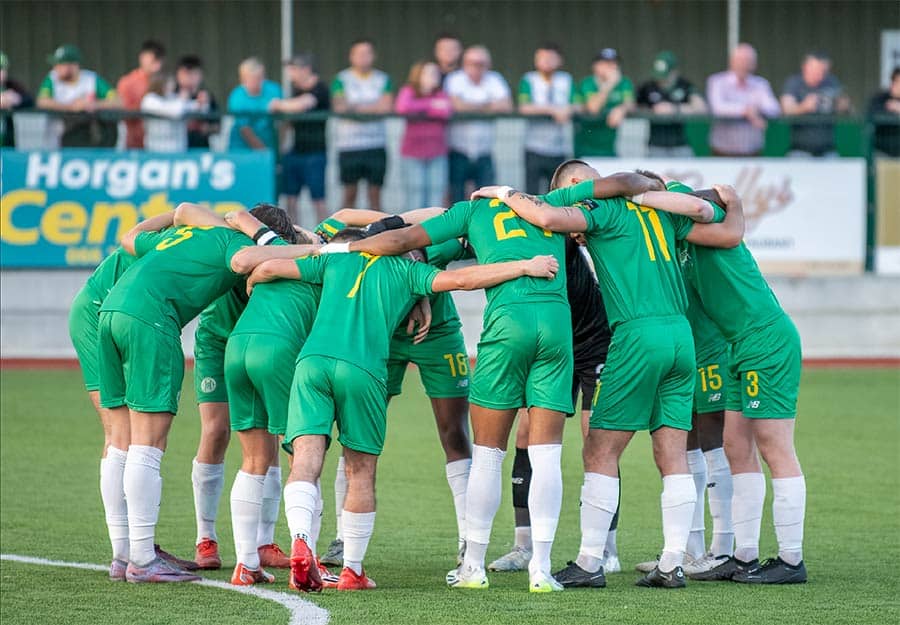 When both sides beginning to turn to their respective benches the cooling break could have been seen as a turning point in the game. Stephen Henderson's men came firing in the final quarter with Giurgi and Whitmarsh looking menacing from a few chances. With both sides fighting for the win in the closing minutes, it was Kerry looking most likely to get a late goal. Substitute Cian Brosnan beat 3 Longford players but played the ball to an offside Kennedy Amechi who would have been in on goal before Longford earned a corner in the dying seconds with Williams once again up to clear any danger.
So a point very well earned for Kerry FC who next Friday return to the site of their historic first win in the League of Ireland in Athlone with kick off at 19:45
---
Kerry FC: Lee Axworthy; Sean Kennedy, Ethan Kos, Kevin Williams, Samuel Aladesanusi, Sean O'Connell, Sean McGrath, Ronan Teahan, Leo Gaxha, Daniel Okwute, Ryan Kelliher Subs: Nathan Gleeson for S Kennedy, 59, Kennedy Amechi for R Kelliher, 73, Rob Vasiu for E Kos, 73, Cian Brosnan for D Okwute, 78, Martin Coughlan for S McGrath, 78
Longford Town FC: Jack Brady; Kyle O'Connor, Aaron Walsh , Dylan Hand, Gavin O'Brien, Adam Wixted, Gary Armstrong, Viktor Serdeniuk, Christian Magerusan, Mohammed Boudiaf, Jordan Adeyemo Subs: Charles Mutawe for A Walsh, 27, Bastien Hery for G Armstrong, 69, Joshua Guirgi, for M Boudiaf, 69, Beineon O'Brien Whitmarsh for J Adeyemo, 69, Jason Doona for A Wixted, 73
Referee: Oliver Moran
---