By David Moriarty. Photos by Michael Gough
Friday evening saw Kerry FC back at home in Mount hawk Park for the first time since the ninth of June when they unfortunately lost to Athlone Town 1-0. On the night they took on Treaty United. Last time out between the two Treaty went out comfortable 4-0 winners with goals from Dean George, two from Success Edugon and Ben O' Riordan. The Kerry lads headed in looking to make it a harder contest since the last bout.
On the subject of Treaty United, with a bit of news off the pitch Kerry FC made their first two signings of the transfer window, the first being Ethan Kos from California, and Martin Coughlan who incidentally came on for Treaty as a second half substitute in that loss in June.
Martin spent time as a Kerry FC player underage in 17's and 19's so he is familiar with his surroundings. These two players are great additions to the already young squad and will hopefully help the team in gaining more points in the second half of the season.
Speaking to the media before Friday's game. Kerry FC manager, Billy Dennehy, talked about their previous games against Treaty and the last time they played them at home which was a very tight affair that only saw Treaty scrape a point as Kerry were very unlucky not to get all three themselves on the night. Dennehy said training was good last week and if they play like they did against Galway they will have a great chance in doing one better on the night.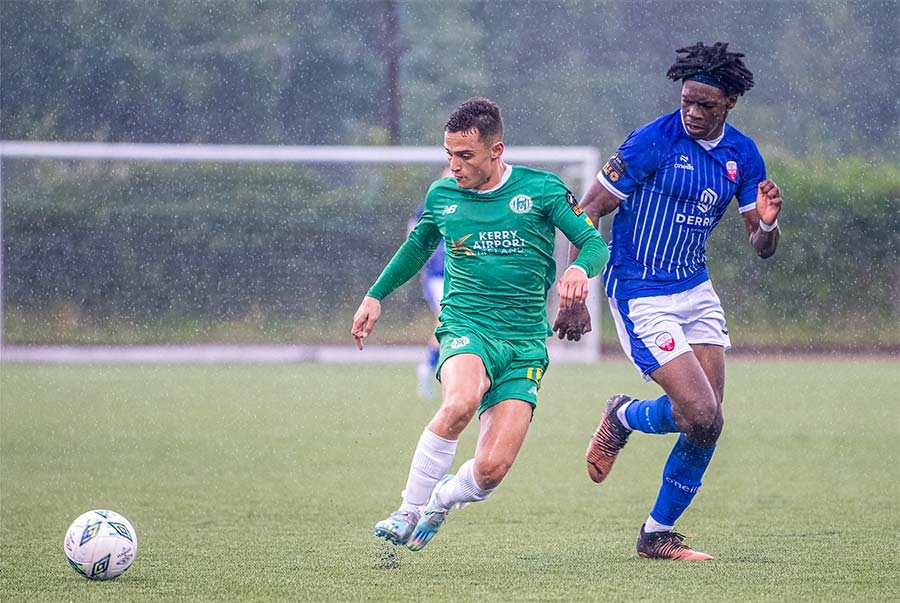 First Half
It was not long till Kerry FC were in utter dreamland. Nathan Gleeson found space inside the box to the right and struck a brilliant shot that was saved by Shane Hallahan, but the rebound was rifled into the roof of the net by Sean McGrath giving Kerry an ideal start.
Despite going behind early, Treaty United did not let their heads drop and were nearly on level terms just a few minutes later when a ball whipped in from Marc Ludden which seemed like it was a cross clipped the crossbar, letting Kerry feel relieved.
Kerry looked to go two ahead when Nathan Gleeson again shot inside the box, but the effort was once again stopped by Hallahan. The ball then came out to Ronan Teahan who shot straight away and seemed to hit the hand of a Treaty defender, but play was waved on.
Kerry would unfortunately lose their lead in the 23rd minute when a corner whipped in from Ludden freakishly went straight into the back of the net. Kerry will feel hard done by this as they controlled the opening spell of the game well and were unlucky not to extend their lead a few times before this. The pressure seemed to mount on Kerry and Callan Scully had to equal a good effort from Dean George that was subsequently put out for a corner.
Kerry would then find themselves behind on the half an hour mark when Dean George got his goal after the earlier effort was denied. Kerry had an uphill battle after that but did not lose their cool and kept plugging away at the Treaty defence.
Just before half time, Kerry were denied a stone wall penalty when a hand from a treaty defender stopped the trajectory of the ball making its way further into the box. The home faithful and the players on the pitch were not pleased to say the least and let their feelings known to referee Chris Sheehan. If a penalty had been given on the stroke of half-time who knows how the game could have panned out.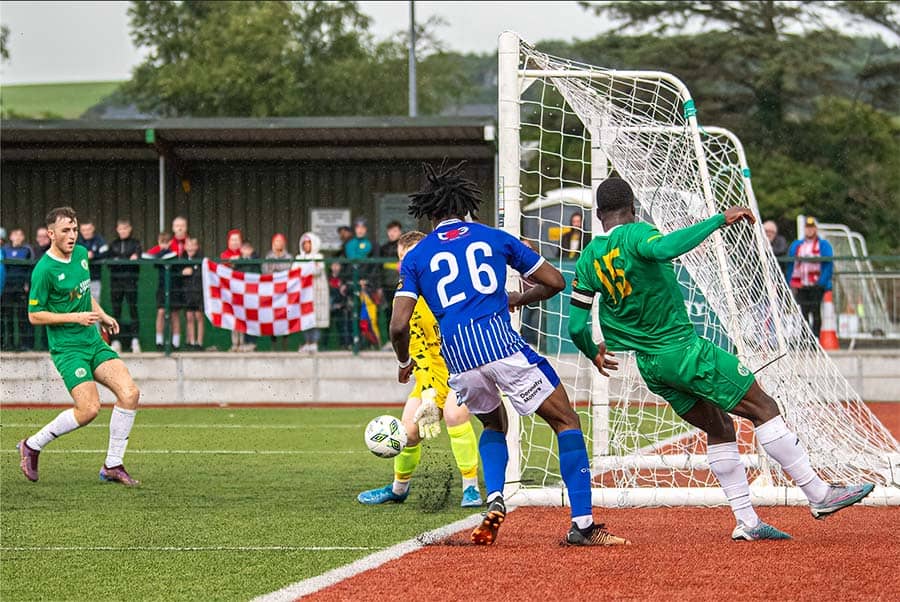 Second Half
Kerry started the second half well on top and it stayed that way for most of the half. A free kick laid off by Leo Gaxha to Sean O'Connell was struck superbly and was pushed away by Hallahan again who was definitely the key player for them as he kept Kerry at bay from scoring four or five.
With twenty minutes remaining Kerry really pressured the Treaty back line. Two shots in quick succession from Matt Keane and Sean O'Connell from outside the box had to be blocked and then claimed by Hallahan who was becoming a headache for the Kerry players.
With sixteen minutes remaining, Kerry would suffer another blow as Treaty would increase their lead to two, totally against the run of play. A brilliant defence cutting pass into Enda Curran was chipped by the striker and gave Scully no chance in the Kerry goal.
Going into the final minutes Kerry still had all the ball and needed to start shooting from anywhere to try and salvage something from the game and that is exactly what Leo Gaxha would do. Receiving the ball well outside of the box to the left, Gaxha would strike a Coutinho-esque shot which rifled into the top right corner that not even Hallahan could save making 3-2 with only a few seconds left on the clock.
Unfortunately, it would end 3-2 to Treaty United and they would leave with all three points. Kerry were superb in the game and were very unlucky not to come away with at least a point.
They travel to Longford Town next Saturday in the hope of picking up their first points in the second half of the season.
Kerry FC Team:
16. Callan Scully, 17. Nathan Gleeson, 15. Kevin Williams (C), 18. Samuel Aladesanusi, 22. Cian Barrett, 3. Sean O'Connell, 8. Matt Keane (C), 23. Ronan Teahen, 7. Sean McGrath (Goal '1), 10. Leo Gaxha (Goal '90), 9. Ryan Kelliher
Subs: Richie Healy, Kennedy Amechi, Togor Silong, Alex Ainscough, Shane Guthrie, Graham O'reilly, Cian Brosnan.
Treaty United FC Team:
13. Shane Hallahan, 2. Ben O'Riordan, 3. Marc Ludden (C) (Goal '23), 5. Lee Devitt, 10. Dean George (Goal '30), 11. Stephen Cristopher, 15. Andrew Spain, 16. William Armshaw, 19. Enda Curran (Goal '74), 21. Colin Conroy, 26. Darren Nwankwo

Subs: Conor Winn, Nikodem Kozlowski, Scott Kirkland, Colin Kelly, Jordan Tallon, Darren Collins, Fionn Doherty, Mark Walsh, Josh Quinlivan.