Kerry FC 1 – 1 Waterford FC
Report by David Moriarty • Photographs by Adam Kowalczyk

Kerry FC played their last home game of the season on Saturday in Mounthawk Park. The kingdom took on Waterford FC for the fourth and final time, finishing off the home campaign with a Munster Derby was special and really got the home crowd going for what has been a historical first season for the club in the Airtricity League of Ireland First Division.
Saturday was Kerry's last home game and were yet to win a league game this season at home. With that being said, there was no time like the present to get that first win. Daniel Okwute, Martin Coughlan, and Rob Vasiu all returned to the starting eleven as Billy Dennehy set out with a very attacking starting eleven. Cian Barrett missed the matchday squad due to an injury he sustained in last week's game against Wexford.
Last time out between the two, Waterford went out comfortable 3-0 winners in the RSC. Goals from Connor Parsons, Roland Idowu, and Ronan Coughlan secured all three points for the home side. Waterford have won all three previous games against the Kingdom and Kerry went into Saturday evening's kick-off wanting to change that.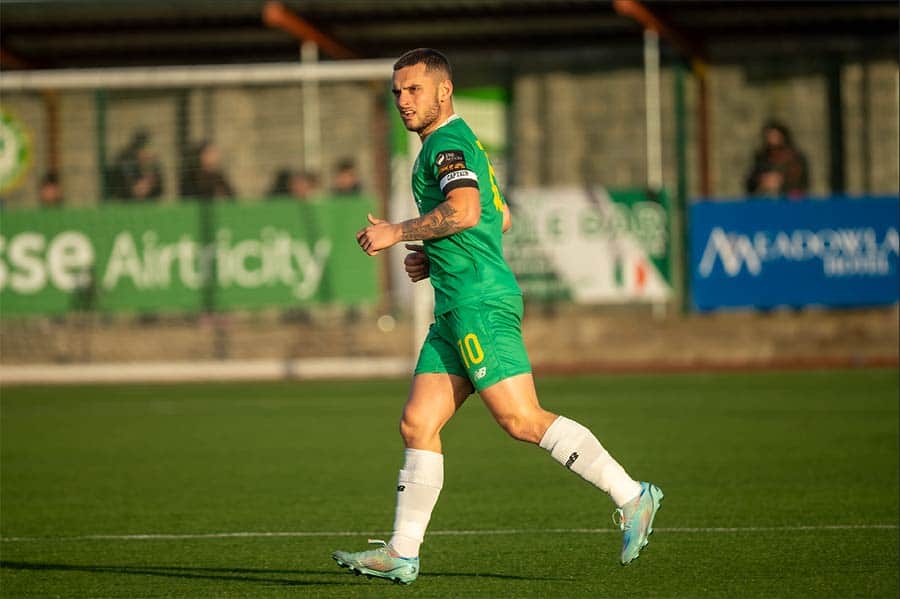 First Half:
Just a minute or so into the game, Kerry could have easily gone down to ten men. Martin Coughlan received a yellow card in the first minute and only minutes later he fouled again. Thankfully referee Declan Toland kept the sides even and did not send off Coughlan.
Daniel Okwute had the chance to put Kerry ahead three minutes in when a miscommunication between Waterford goalkeeper Paul Martin and his centre-back led to Okwute going on goal completely unopposed. Daniel went around Paul Martin but tightened his angle in doing so. He took the shot on, but his effort was cleared off the line.
From then on, the first half was slow to build on what was an entertaining opening five minutes. Waterford's first chance came from a driving run down the right flank which led to a low cross from Christie Pattisson, but Ethan Kos intercepted superbly and put it out for a corner, thankfully the corner led to nothing.
Nine minutes before the end of the first half Lee Axworthy was called into action for the first of what would turn out to be many times on the night. Anthony Adenopo went in on goal on the right side of the area. He fired his shot at goal, but Axworthy was there to keep the score level before halftime.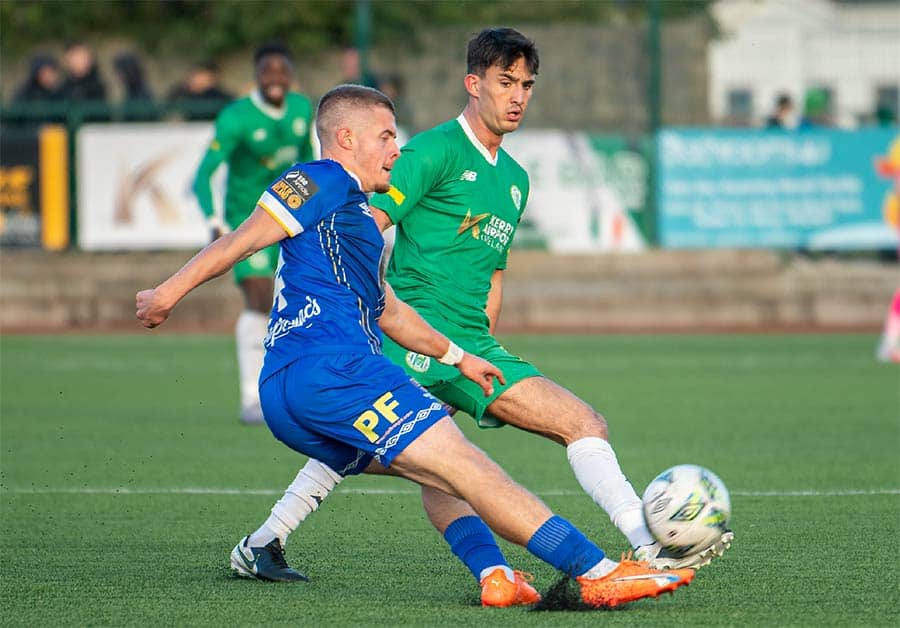 Second Half:
The second half started as slow as the first half finished. But the fifty-fourth minute brought life into the game as Kerry took the lead through their captain Leo Gaxha. Killian Cantwell passed the ball back to Paul Martin and was closed down by Gaxha. Martin tried to clear the ball, but Leo blocked his effort, and the ball went backwards in the air before it finally dropped for Leo to head home into the empty net.
The home side held on well despite being pushed back by Waterford. The substitutes Connor Parsons, Ronan Coughlan, and Rowan McDonald all entered on the hour mark and started to bolster the Waterford attack. Waterford would then equalise just eight minutes later through a very controversial free kick that was awarded against Martin Coughlan who looked to be fouled. A quick over-the-top dink into the box from Shane Griffin found Ronan Coughlan who was there to head home and square it all up with twenty minutes still to play.
Connor Parsons nearly made it 2-1 to Waterford as he went up against Lee Axworthy, but Parsons missed the target and put the ball wide of the left-hand post. Lee Axworthy was again called into action as he made another fantastic save this time to prevent Ronan Coughlan from doubling his tally on the night. Lee Axworthy put on a man-of-the-match performance in the final home game of the season, although every time Waterford went through, we had our hearts in our mouths.
There were three minutes to be added on but nothing else changed in that time as it finished 1-1. A fantastic last home performance of the season by Kerry and although they did not get that home league win, it was still a fantastic overall performance from Billy Dennehy's side who will look to take positives from that going into Friday's last game of the season away to Cobh Ramblers in St. Coleman's Park.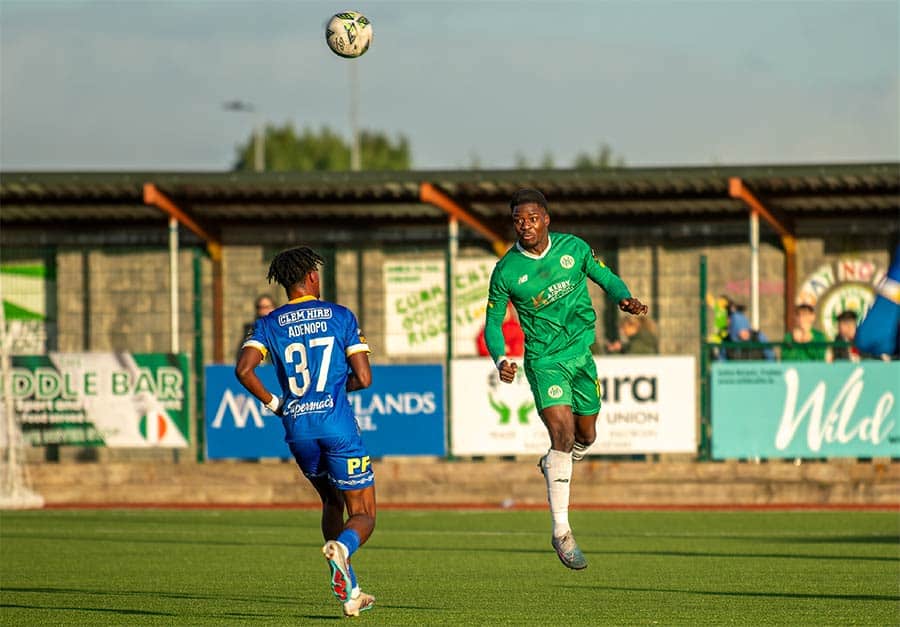 ---
Kerry FC Team: 32. Lee Axworthy, 2. Rob Vasiu, 5. Ethan Kos, 18. Samuel Aladesanusi, 15. Kevin Williams, 21. Daniel Okwute, 17. Nathan Gleeson, 19. Martin Coughlan, 10. Leo Gaxha (C) (Goal '54), 7. Sean McGrath, 9. Ryan Kelliher.

Subs: Arthur Nganou, Alex Ainscough, Togor Silong, Ronan Teahan, Graham O'reilly, Cian Brosnan, Kennedy Amechi.
Waterford FC Team: 1. Paul Martin, 2. Darragh Power, 4. Niall O'Keefe (C), 7. Shane Griffin, 11. Serge Atakayi, 16. Andrew Baker, 21. Christie Pattison, 24. Killian Cantwell, 27. Dean McMenamy, 33. Ronan Mansfield, 37. Anthony Adenopo.
Subs: Rowan McDonald, Barry Crowe Baggley, Connor Parsons, Derik Osede, 18. Cameron Cresswell, Ronan Coughlan (Goal '68), Roland Idowu, Jason Healy, 32. Adam Queally.
---