Kerry FC 1 – 2 Wexford FC
Report by David Moriarty • Photographs by Adam Kowalczyk

Kerry FC were back at home for the second last time of the season on Friday night as they took on Wexford FC. Wexford came into the game only needing a point to secure a play-off place, so it was evident Kerry would have a tough one on their hands as the away side were looking to secure their place sooner rather than later. Kerry came back to Mounthawk Park after a long journey last weekend up to Ballybofey as they narrowly lost 2-1 to Finn Harps. A Ryan Kelliher goal put the kingdom ahead just after halftime, but two Harps goals secured all three points for the Donegal side.
The last time Wexford made their way to Tralee, they won comfortably in a 6-0 win which was Kerry's most significant defeat at home.to date. During the week, Kerry FC manager Billy Dennehy spoke to the local media. He talked about that heavy defeat and mentioned how ever since, his side has been able to compete in tough games. He also said it is about consistency and keeping that competitiveness not just for the rest of the season but also going into next season.
Kennedy Amechi made his second start of the season on Friday. Kennedy famously became the first ever Kerry FC player to win an FAI League of Ireland goal of the month award for his stunning strike in his first start for the Kingdom coincidentally against Wexford FC. With him being named in the starting eleven again, the home crowd were excited to see if he could pull off a bit more magic similar to his night in Ferrycarrig Park.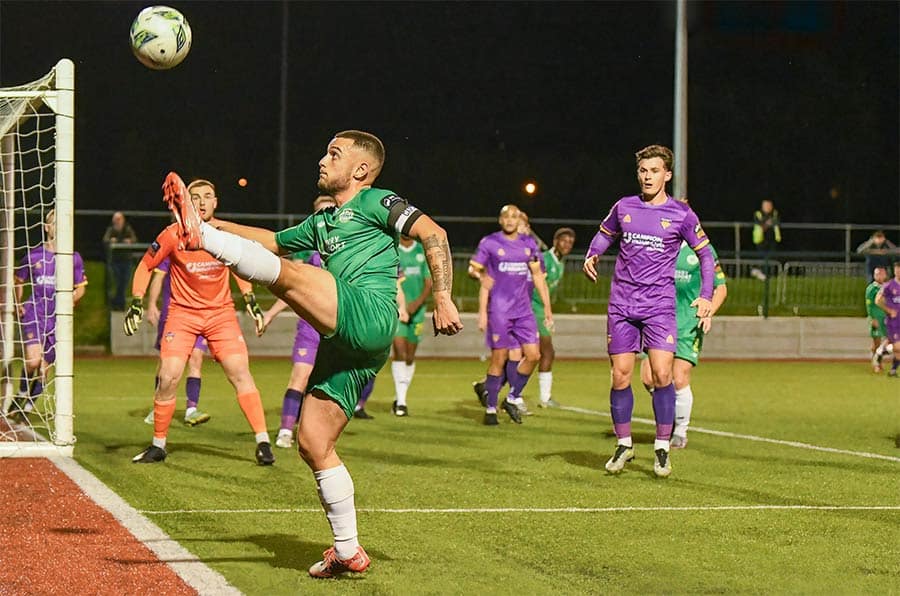 First Half
The game was lively in the early exchanges and Wexford took the lead inside six minutes to the dismay of the home support. Reece Webb received the ball on the right corner of the box. Wexford's number 20 took a couple of touches and struck it brilliantly on his right foot. It flew right into the top left corner bringing Wexford a step closer to play-off qualification.
Kerry kept plugging away despite the early setback. A shot from Sean McGrath just outside the box went left and wide of Owen Mason's net and a good burst of pace from Nathan Gleeson opened a shot for himself, but again did not trouble Wexford's goalkeeper who was recently called up to the Ireland under 21's squad for upcoming games.
With a couple of chances, it was evident Kerry were getting close to that equaliser and it came seven minutes after the opener. A long pass over the top from Ethan Kos confused the Wexford defence who did not judge the flight of the ball. Ryan Kelliher realised the opportunity and was very composed to take it around his marker inside the box and slot the ball into the bottom right corner. Kerry did not stay down for long to the delight of the home faithful. Kelliher netted his twelfth goal of the season in all competitions.
The game started to quieten after the equaliser, but Kerry looked a lot more comfortable in and out of possession. Lee Axworthy had a bit of work to do as a long-range shot from Darragh Livingston moved in the air, but Kerry's keeper collected the ball with ease. Kevin Williams put in a fantastic display all night and was rewarded with a round of applause after dealing with a one-on-one attack from Thomas Oluwa just before halftime. The crowd recognised the magnificent work the defensive line has shown throughout the second half of the season. And the improvement had been seen.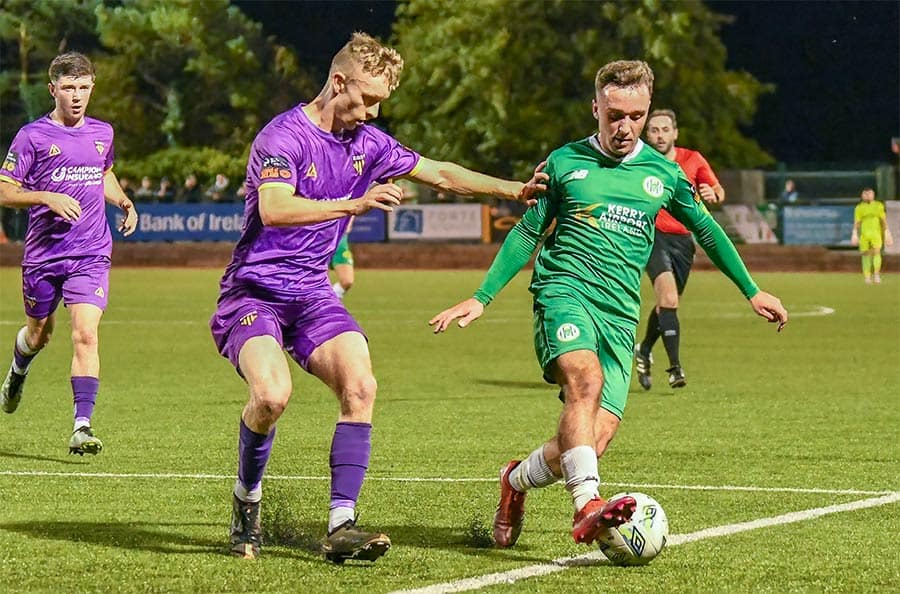 Second Half
Wexford dominated the majority of the second half with Kerry only getting close to goal on several occasions. Lee again dealt with another long shot this time from Reece Webb who fortunately for the home side did not have the same connection as his previous effort on goal.
Wexford again had another big opportunity as they were awarded a free kick on the edge of the eighteen-yard box. James Crawford took the set piece, but he put it wide of the left-hand post. Even though Kerry still seemed comfortable on the ball, they needed to be cautious as Wexford had the quality to punish them in the final third. They showed that when they counterattacked from a Kerry corner with half an hour to go. Luckily, Ethan Kos got back and dealt with it, but the pace from defence to attack from Wexford was frightening.
Even though Kerry were dealing with the pressure, Wexford regained their lead with twenty-three minutes remaining. A free kick delivered in on the left-hand side from Kian Corbally was headed down by Cian O'Malley to Thomas Oluwa. The striker had time and space to make his mind up and finished it with ease into the bottom left corner. Kerry had gone behind already and with a healthy amount of time still on the clock, the fans were confident that the home side could get back into it.
Cian Barrett got caught in a collision and was replaced by Alex Ainscough. Barrett was fantastic again on the night and the crowd rose as he was helped off the pitch.
Wexford were close to doubling their lead when Corban Piper took a shot inside the six-yard box. It went past Lee, but Ethan Kos was there to clear it off the line.
Samuel Aladesanusi was close to a late equaliser as he got on the end of a cross from Cian Brosnan, but it was kept out by Owen Mason. The ball trickled around the box for a brief period but was eventually cleared away giving Wexford enough to hold on and claim all three points.
Kerry were decent throughout and many felt a draw would have been the fairest of results. Some positives from the game as Sam, Kevin, and Ethan really showed how good they can be as a centre-half trio while Ryan Kelliher bagged another goal for himself and he has a personal debut season to remember in the League of Ireland. Kerry FC play their last home game of the season next Saturday as they face Waterford FC. A final home game of the season as a Munster derby is sure to be entertaining.
---
Kerry FC Team: 32. Lee Axworthy, 17. Nathan Gleeson, 18. Sam Aladesanusi, 15. Kevin Williams, 5. Ethan Kos, 3. Sean O'Connell, 22. Cian Barrett, 7. Sean McGrath, 10. Leo Gaxha (C), 29. Kennedy Amechi, 9. Ryan Kelliher (Goal '13).
Subs: Arthur Nganou, Rob Vasiu, Alex Ainscough, Togor Silong, Martin Coughlan, Daniel Okwute, Graham O'Reilly, Cian Brosnan.
Wexford Fc Team: 1. Owen Mason, 2. Darragh Levingston, 5. Ethan Boyle (C), 10. Aaron Dobbs, 13. James Crawford, 16. Corban Piper, 17. Kian Corbally, 20. Reece Webb (Goal '6), 23. Cian O'Malley, 26. Luke Browne, 28. Thomas Oluwa (Goal '68).
Subs: Noel Heffernan, Brandon Mccann, Eoin Kenny, Mark Hanratty, Luka Lovic, Conor Levingston, Danny Furlong, Maximilian Kelly, Aaron Doran.
---