By David Moriarty. Photos by Michael Gough
Kerry travelled to Bishopsgate for the second time this season to take on ninth placed Longford Town.
Last time out between these two was a narrow 3-2 win for the town in which Sean McGrath and Ryan Kelliher would score for the home side. On the night we saw the debuts of four new signings in Ethan Kos, Martin Coughlan, Goalkeeper Lee Axworthy, and the returning Daniel Okwute, who signed on a permanent deal from Stockport County. Okwute played against Kerry for Finn Harps in Mounthawk Park this past April as he spent half the season on loan there. Daniel is a Kerry man from Killarney and spent a few years with Kerry FC in the underage academy.
Lee Axworthy is also a new man who signed this week. Lee played for Brentford's B team in England for a few years before playing non-league football with the likes of Hertford Town and Langley FC between the sticks. With the four new signings starting together for the first time it will be a vastly different Kerry FC side to games past.
Talking to the media this week, Kerry FC manager, Billy Dennehy talked about how similar Kerry FC and their opponents Longford Town are by means of new signings to help them get more points at the bottom of the table and how close the previous games between the two have been.
He also talked about the new signings who came in and how well they trained from the get-go and how it helps the squad in competition for starting places on match days.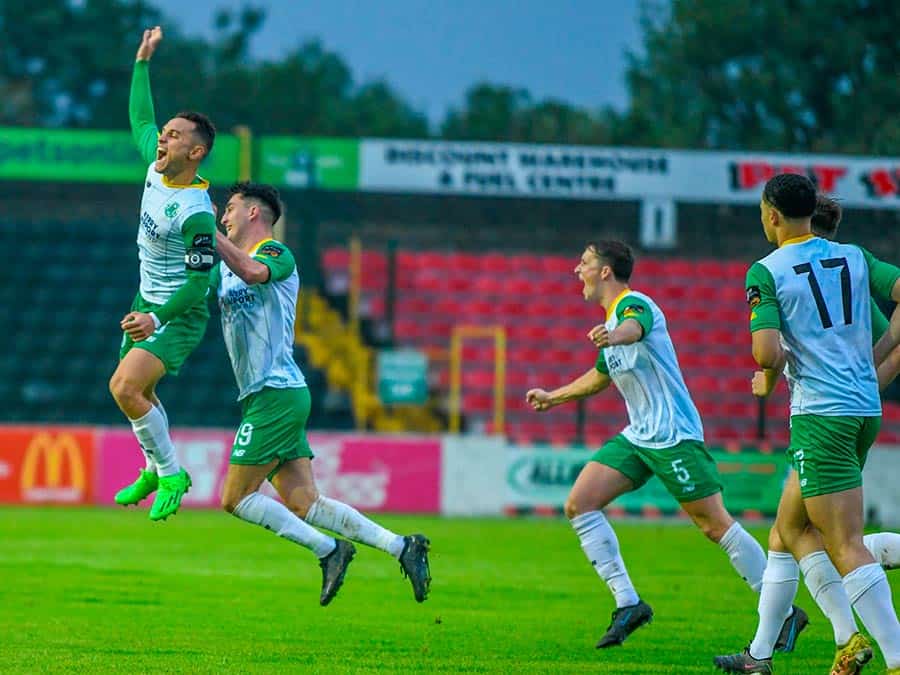 First Half
Kerry started the game on the front foot and had a high press in place from all of Longford's short kick outs. This early tactic was evident in the seventh minute when Longford's keeper Jack Brady's kick out went straight to the feet of Martin Coughlan. Coughlan played a decent driven pass forward to the feet of Leo Gaxha who's shot dragged just wide of the post.
After the first ten minutes Kerry FC were well on top and their constant pressure made Longford struggled to string a few passes together to the delight of the travelling supporters and Dennehy in the dugout.
As the half went on Longford came back into it and a couple of chances were created from the home side. Most notably from Beineon Whitmarsh who had an empty shot at goal after a Kerry defensive mix up, but Sam Aladesanusi got back to block the effort. Going back to a long kick out really helped them in trying to get a foothold on the game as the short kick outs clearly were not working.
With five minutes before the end of the half, Longford struck first. A corner from the right side of the box was whipped in and cleared well by Sam Aladesanusi. The ball was cleared out as far as Gary Armstrong who leathered the ball back in and into the bottom right corner to give the home side the lead. A superb strike from Armstrong out of nothing from this half which was well needed to spark a bit of life into both teams.
Even from an even first half Kerry found themselves behind again with it all to do in the second period. Having taken very few set pieces in the first half could only be seen as a bad thing as they would really have to challenge the defence on such a poor night weather wise in the midlands and was something the town targeted in the opening forty-five minutes.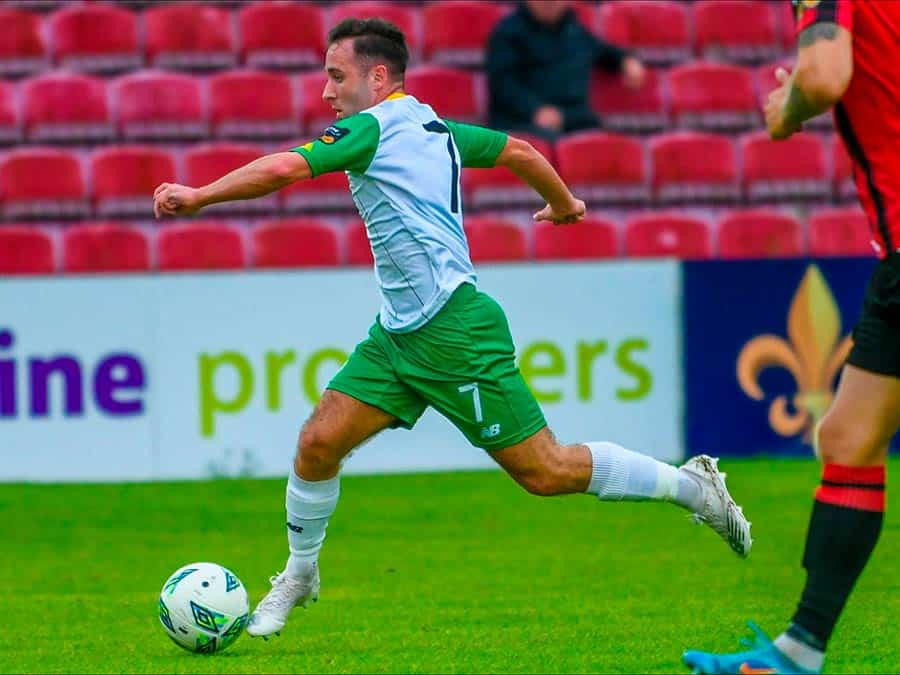 Second Half
Kerry started the second half in the best possible manner after winning a penalty. A handball in the area was finally given in the Kingdoms favour after so many calls in previous weeks with Leo Gaxha stepping up. After his wonder goal last week, he was oozing with confidence and his effort from twelve yards was struck brilliantly past Brady into the left side of the goal, making it 1-1.
Kerry seemed to have started the second like the first with good pressure in both defence and attack forcing mistakes from the Longford back line.
It got cagey as the game went on due to the wet and windy conditions and yellow cards were picked up from the likes of Togor Silong and Dylan Hand for both sides. With the conditions being the way, they were on the night; you knew that a goal could come from a loose ball or a sliced clearance giving the opposition the opportunity to pounce.
The chances were minimal for both teams in the second half. With about fourteen minutes to go, Ronan Teahan used fantastic footwork to get away from his marker in midfield and put a superb pass over the top into Gaxha. Gaxha's effort hit the side netting from the left side and did not trouble Brady in the Longford net.
With ten minutes to go Longford went back in front once again through second half substitute Christian Magersun. A corner from the right side floated into the box by Adam Wixted found the head of Magersun which he directed into the bottom left corner to reclaim their lead.
As the game came to a close Longford threatened a third goal on a couple of occasions as Kerry had to defend and unluckily had very little chance to attack. New signing for Longford Bashian Hery came on in the ninetieth minute and had a truly short cameo as he got sent off for an elbow on Ronan Teahan just a couple of minutes after making his debut.
That red would prove to be the last action of the game and ten men Longford Town would head out 2-1 victors over Kerry FC. Kerry were good in spells of the game but failed to create enough chances to compete with Longford. With that said for four fresh players to feature in the starting eleven it was a good sign of things to come as they dominated possession for substantial portions of the game.
Kerry face Ringmahon Rangers next Friday at home in the first round of the FAI Cup and will hopefully get their first home win of the season in a good old cup tie.
Kerry FC Team:
32. Lee Axworthy, 3. Sean O'Connell, 18. Sam Aladesanusi, 5. Ethan Kos, 22. Cian Barret, 17. Nathan Gleeson, 13. Togor Silong, 19. Martin Coughlan, 10. Leo Gaxha (C) (Goal '46), 7. Sean McGrath, 21. Daniel Okwute
Subs: Callan Scully, Rob Vasiu, Alex Ainscough, Matt Keane, Ryan Kelliher, Ronan Teahan, Graham O'reilly, Cian Brosnan, Jonathan Hannafin.
Longford Town Team:
1. Jack Brady, 2. Shane Elworthy (C), 4. Aaron Walsh, 5. B. O'brien-whitmarsh, 6. Dyland Hand, 10. Gary Armstrong (Goal '41), 13. Lewis Temple, 16. Adam Wixted, 17. Jordan Adeyemo, 18. Viktor Serdeniuk, 20. Kyle O'Connor
Subs: Harrington, Daly, Giurgi, Fay, Magerusan (Goal '80), Doona, Boudiaf, O'Brien, Hery.