Report by David Moriarty and photos by Adam Kowalczyk

On Friday night Kerry FC were back at home in Mounthawk Park, Tralee for the second Munster derby of the season. The opposition on the night, Treaty United from Limerick. Both teams came into the fixture in desperate need of getting off the mark points-wise on the league table. Treaty suffered back-to-back 1-0 losses to both Bray Wanderers and Galway United, whereas Kerry lost to Cobh Ramblers on the opening night and Bray Wanderers last weekend.
Despite the results of the opening two games, Kerry FC manager Billy Dennehy had encouraging words in his program notes. He mentioned although they were disappointed with not getting the results they would like, they will continue to fight to represent the people of the Kingdom, and he hopes the team can give the people of Kerry happy evenings ahead on the pitch.
Kerry had just the one change to the team that lined up last week in Bray. Nathan Gleeson came in up front for Trpimir Vrljicak as he deals with an ankle injury. Treaty made two changes to the team that faced Galway last week, Goalkeeper Shane Hallahan and Dean George both started for United.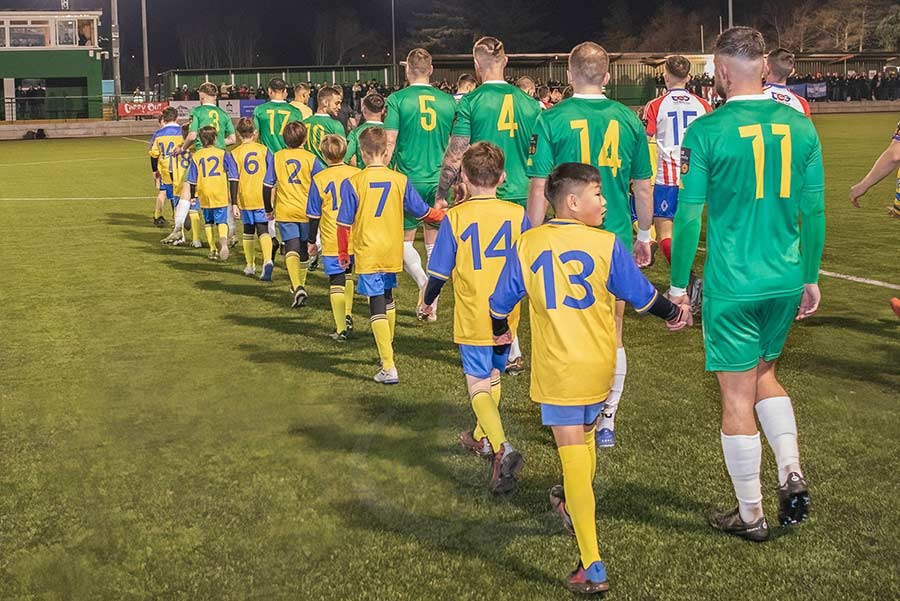 First Half:
Kerry enjoyed much of the possession in the opening stages of the game, a free kick was awarded after a late tackle and was delivered in from the left side of the box but unfortunately led to nothing. Kerry were attacking in numbers and whilst that helped them create chances, they needed to also be careful of the counterattacks that Treaty could threaten with.
Kerry's significant momentum at the start of the game paid off incredibly early on. A great run from the man in-form Leo Gaxha down the left by-line beats his marker and his low cross into the six-yard box was met by a Sean Kennedy tap-in. Kennedy scoring his first goal of the season and the first senior Kerry FC goal in front of the Mounthawk faithful was a special moment, not just for Kennedy, but for everyone in attendance. A big chance came for Treaty just eleven minutes later when a counterattack down the right wing was delivered into the box to Enda Curran who miss-kicked and dragged it wide of the goal.
Kerry kicked on well after the goal and it looked like another goal opportunity was opening when Leo Gaxha showed a burst of pace that left a Treaty defender looking completely out of sorts. However, his pass had too much weight on it and was too far for Nathan Gleeson to reach it and have a one-on-one chance with Shane Hallahan in the Treaty Goal.
A controversial passage of play nearly cost Kerry a goal in the twenty-ninth minute when Kerry played through Treaty with a couple of near-controlled passes culminating in a pass that was seemingly blockedby a hand. The play was waved on by referee Eoghan O'Shea and Treaty started the counterattack, a chance was created down the left side of the goal but was saved by Wayne Guthrie and he managed to put it out for a corner. If a goal had resulted from this, I am sure the ground would have erupted.
Kerry started to rely on their keeper heavily soon after and Treaty went level at the half-hour mark. Conor Barry shifted the ball across the box in an awkward fashion and trickled across the crossbar, it dropped to Enda Curran who finished off a gift of a goal to tie up the game. A couple of saves from Wayne Guthrie kept the visitors at bay as they piled on the pressure. Kerry looked like they could finish the half ahead when Sean McGrath, who was excellent on the night, fooled two Treaty midfielders with a bit of trickery and opened himself up for a shot twenty yards from goal. Unfortunately, he didn't have the right amount of whip and power on the shot, and it was easily gathered by Hallahan.
Second Half:
The second half started end-to-end, but few clear-cut chances were created, until a low cross in from the left side of the box by Dean George was met by Conor Barry, thankfully for Kerry his strike had too much power and not enough precision and the effort went wide of the goal for Treaty. The opportunities were coming thick and fast for the away side and a brilliant tackle from Kalen Spillane was needed after a poor kick out from Guthrie was met by Enda Curran who looked to be through on goal until the big centre half cleared the danger.
Kerry's evening became even harder when Andy Quaid received a second yellow card and was sent walking. His misjudged tackle didn't give Eoghan O'Shea a second to think about his decision. Kerry stayed in the game and held their own superbly even down to ten men. A great defensive structure gave Treaty little to no opportunities.
It was that defensive structure that gave Kerry the chance to attack and gave them their best chance in the second half. A brilliant over-the-top ball from Matt Keane was played into Leo Gaxha who found himself one on one with the keeper. He did very well to hold off the defender but unfortunately missed the target with just under twenty minutes to go.
Kerry found it hard to get out in the closing stages of the game, a numerous amount of Treaty free kicks was eventually dealt with and Kerry saw the game out and shared the points with United.
The fight Billy Dennehy was talking about was clearly on show on the pitch and Kerry was able to get off the mark finally with a point in this Munster derby. The home crowd was behind the team from minute one and the spirit from the stands translated to the players on the pitch earning a hard-fought point. Kerry next up has an away trip to league leaders Galway United. This game will be a tough one, but tonight's performance will give Dennehy and his team a huge confidence boost going into it.
Kerry FC Team:
Wayne Guthrie, 3. Sean O'Connell, 4. Shane Guthrie, 5. Kalen Spillane, 7. Sean Mcgrath, 8. Matt Keane (C), 10. Leo Gaxha, 11. Sean Kennedy (Goal 9'), 14. Andy Quaid, 15. Kevin Williams, 17. Nathan Gleeson
Subs: Aaron O'Sullivan, Alex Ainscough, Ryan Kelliher, Samuel Aladesanusi, Ronan Teahen, Jonathan Hannafin, Stephen Mccarthy, Graham O'Reilly, Cian Brosnan.
Treaty United FC Team:
Shane Hallahan, 2. Ben O'Riordan, 3. Marc Ludden (C), 5. Lee Devitt, 6. Anthony O' Donnell, 7. Conor Barry, 10. Dean George, 15. Andrew Spain, 16. William Armshaw, 19. Enda Curran (Goal 31'), 25. Mark Walsh.
Subs: Joshua Coady, Alec Byrne, Success Edogun, Scott Kirkland, Colin Kelly, Martin Coughlan, Colin Conroy, Darren Collins, Josh Quinlivan.
View the match photo gallery here >>