On Friday night Kerry FC were on the road once again. The Kingdom arrived at the Waterford Regional Sports Centre to face Waterford FC who sat at third spot ahead of the evening's clash. The contest was the third Munster derby for Kerry this season and finished off the first round of fixtures in the SSE Airtricity First Division of Irish football this season. Ahead of the trip, Billy Dennehy showed his delight with having a nearly fully fit squad to choose from. "As the games go by everyone is pushing for places and more players are becoming available which is a real positive for myself," stated Dennehy. Kerry were very unlucky not to come away with all three points last week against Finn Harps, but the confidence gained from that game should stand to them in the long run, and they would hope it would start with this game.
The home side came into it winning three of their last four games including a 7-1 win over Kerry's opposition from last week. If Kerry were to keep Waterford at bay, they would have to be really on form and coherent with the gameplan set by Dennehy and his coaches. Before kick-off, a minute off applause was displayed impeccably by everyone in the ground for Waterford native Craig Breen who tragically passed away on Thursday the 13th of April in a pre-event test for the Croatia Rally. Craig had connections to Kerry through his grandfather and everyone at Kerry FC would like to extend their sympathies to Craig's family and friends.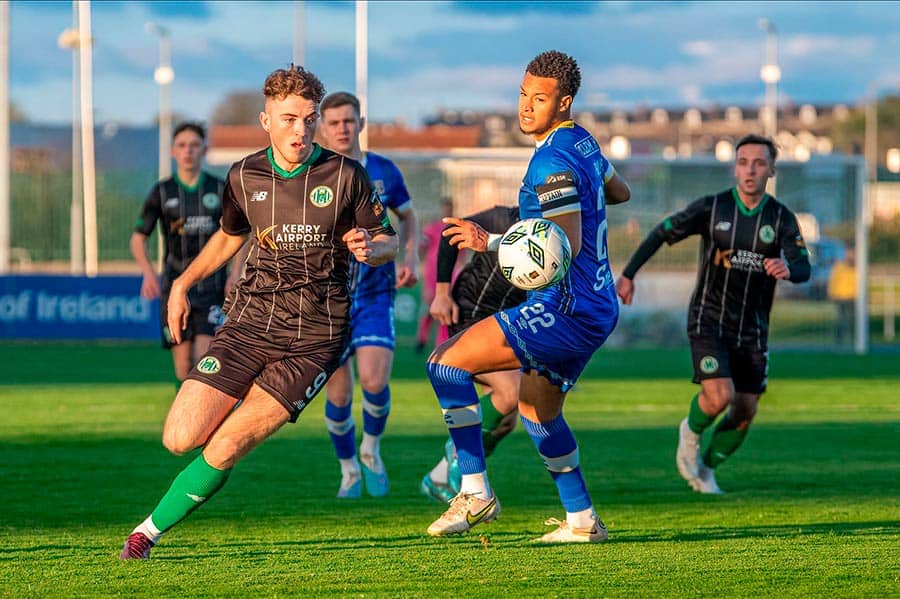 First Half

The half started off strong from the hosts with a wide range of chances. The first of which came from a corner swung across by Shane Griffin who had a great header met by Giles Phillips, his effort looked to be in, but Wayne Guthrie caught and gathered the opportunity brilliantly. As time went on the possession stayed with Waterford, but Kerry defended well to keep them out.
One of the main points from the first half was the fact that Waterford were taking serious advantage of their corners. This time a ball was delivered in by Barry Baggley from the right corner flag and was headed by Shane Griffin, his effort was once again gathered by Guthrie. Kerry showed brilliant resilience throughout the heavy pressure and made it exceedingly difficult for Waterford to get off any clear-cut shots on goal. This was evident when a good ball into the left side of the box by Ryan Burke made its way through to Rowland Idowu. He twisted and turned to find a bit of space which was not easy for him to find due to the well-constructed Kingdom defence. He got his shot off which just went over the bar.With all of Kerry's defending they found it extremely hard to get up to the other side of the pitch to create any chances of their own. The half came to a close with one more chance for the home side. Ronan Coughlan dribbled past a couple of the Kerry defenders inside the left side of the box and got his shot off. A bobble along the ground made it hard for Guthrie but he managed to
parry the ball away and bring the Kingdom in level at the halfway mark.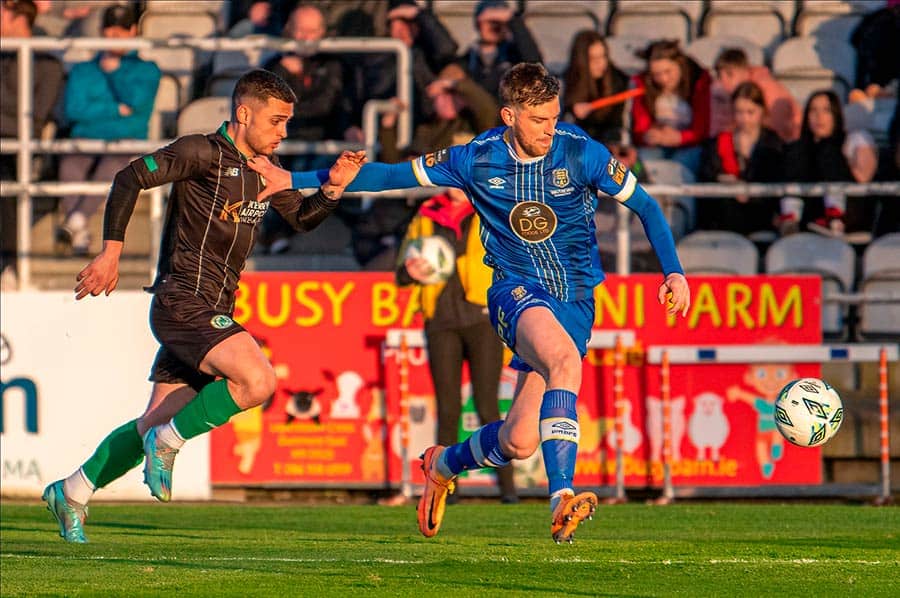 Second Half
Kerry started the second half with their first real opportunity of the game. A kick-out from Guthrie made its way to Ryan Kelliher, he was unable to control the ball, but he did enough to help its way through to Leo Gaxha. Gaxha saw Waterford keeper Paul Martin off his line and tried a long-range effort. It was a great idea, but it didn't trouble the man in between the sticks. Kerry were being tested heavily in the defence and the back line gave a valiant effort, with some first-class last-stitched tackles and blocks from the likes of Rob Vasiu and Samuel Aladesanusi. Kevin Williams another star performer at the back.With this said, Waterford's pressure was rising, and it was evident a breakthrough was coming for them. They went close with a free header from Ronan Coughlan that was kept out again from Guthrie, but all the demanding work unfortunately would go undone. Their twelfth corner of the game was delivered in by Barry Baggley and headed home by Ronan Coughlan to put the hosts ahead.
Kerry started to play some decent football going forward after going down and remained positive for the rest of the game. They nearly got done on the counterattack however with ten minutes to go when Waterford substitute Wassim Aouachria looked to have a clear shot on goal only a few yards out. He eventually got the shot off but was blocked again fantastically by Rob Vasiu. Even though the Kingdom battled hard they went away from the RSC with a 1-0 loss.
Kerry can keep their heads held high after exhibiting a solid defensive performance and were unlucky not to come away from Waterford with at least a draw. The Kingdom are back at home again next Friday as they start off the first game in the second round of fixtures against league leaders Galway United.

Kerry FC Team: 1. Wayne Guthrie (C), 2. Rob Vasiu, 18. Samuel Aladesanusi, 15. Kevin Williams, 22. Cian Barrett, 23. Ronan Teahan, 24. Jonathan Hannafin, 10, Leo Gaxha, 9. Ryan Kelliher, 7. Sean Mcgrath, 3.
Sean O'Connell.Subs: Callan Scully, Shane Guthrie, Sean Kennedy (68'), Matt Keane, Alex Ainscough, Trpimir Vrljicak (80'), Cian Brosnan (78'), Kennedy Amechi, Cormac Buckley.Waterford FC Team: 1. Paul Martin, 12. Tunmise Sobowale (Wassim Aouachria '68), 22. Giles Phillips (C), 24. Killian Cantwell, 3. Ryan Burke, Roland Idowu (Chris Conn-clarke '59), 4. Niall O'Keefe, 8. Barry Baggley, 7. Shane Griffin (Connor Parsons '59), 27. Dean Mcmenamy (Darragh Power '68), 19. Ronan Coughlan (Goal '70) (Dean Larkin '90+2).